Posted on
Lake Girls Score Victories Over Scobey, Dodson Squads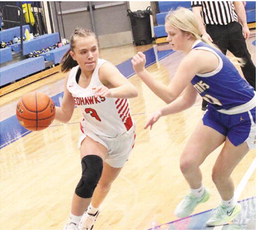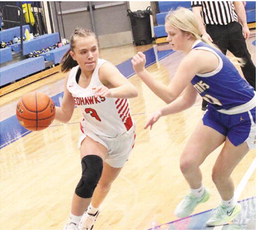 Froid/ Lake Girls Score Victories Over Scobey, Dodson Squads
The Froid/Lake Red Hawks came from behind for a dramatic 36-34 girls' basketball victory against Scobey on Saturday, Dec. 10.
The Red Hawks trailed by a 25-23 margin entering the fourth quarter, but a three-pointer by Baylee Davidson put Froid/Lake ahead to open the final period.
After Scobey moved back ahead, another three-pointer by B. Davidson tied the game at 32-32. The Spartans went back ahead until a basket by Jaeleigh Davidson produced a 34-34 deadlock with 2:10 left.
After a steal by Dasani Nesbit, Froid/Lake went ahead on a layup by Baylee Davidson with 35 seconds remaining. Scobey's final shot attempt was blocked by Dasani Nesbit with 11 seconds left.
Top scorers for the Red Hawks were B. Davidson with 17 and Nesbit with 12 points. Also scoring were Salvevold with three, J. Davidson with two, Alexa Nelson with one and Brooklyn Nordwick with one.
Carrie Taylor led Scobey with 11 points.
Froid/Lake trailed by a 7-6 margin at the end of the first quarter and by an 11-8 margin until B. Davidson fired in a three-pointer with 5:42 left in the second period. A free throw by Salvevold and a turnaround shot by Nesbit put the Red Hawks into the lead.
A free throw by Nordwick and a drive by Nesbit increased the gap to 17-14. The Red Hawks led 21-17 at the half.
The Red Hawks opened the weekend with a 66-28 victory over Dodson on Friday, Dec. 9.
B. Davidson accounted for 26 points including 22 points in the first half against Dodson.
The Red Hawks jumped out to a 17-9 lead in the first quarter as B. Davidson fired in three three-pointers.
Froid/Lake enjoyed a 37-17 half-time advantage.
Salvevold and J. Davidson added 11 points each. Also scoring were Nordwick with eight, Nesbit with four, Avery Johnson with two, Addison Elvsaas with two and Nelson with two.
Kataya KillEagle scored 24 points for Dodson.