Posted on
Froid FFA Takes First At District Competition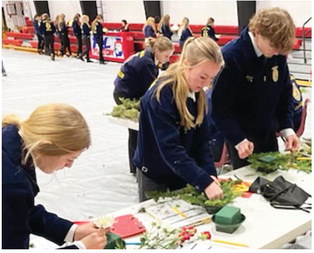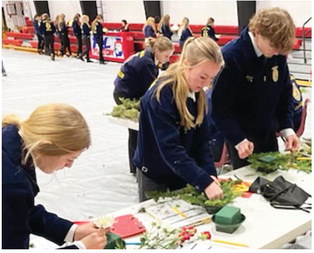 Floriculture
The Froid FFA program came away with first-place honors from the district floriculture competition held in Lambert on Monday, Dec. 4.
Members of the first-place team were Kaylee Olson, Carolyne Christoffersen, Addison Elvsaas and Cian Logan. There were 42 teams at the meet.
Olson took first and Christoffersen placed second in the individual standings. Elvsaas was seventh and Logan took 10th.
The Froid JV team placed seventh out of 31 teams. Jaleigh Davidson took third, Lily Johnson was 19th and Owen Logan took 23rd.
Froid's sales team also qualified for the state meet by placing sixth. Individuals placing were Makaylee Elvsaas in fifth, Cody Olson in 14th, Missouri Kalal in 14th and Owen Logan in 37th.
Jacob Martensen earned 22nd place at the JV level.
During the team activity, students made a boutiner and a corsage along with this arrangement.