Posted on
Wolves Open At Eagle Invitational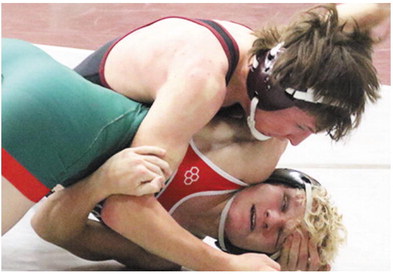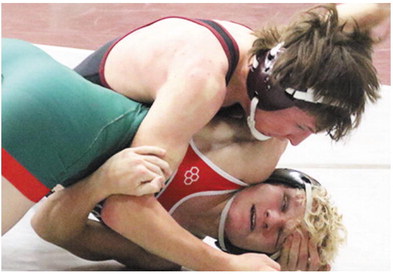 The Eagle Invitational in Sidney was the hot spot for wrestling this weekend.
"This is one heck of a way to start the season. There were eight states represented this week. We had California, Washington, Idaho, Colorado, Ohio, North and South Dakota and Montana," Wolf Point coach Scott Vandall said. "It was a fun learning experience. We are young and we took some lumps but gave a couple also."
On Friday, Wolf Point's boys teamed up with Poplar and took second place in the small team duel. Maddox Reum had a hard day. He wrestled up at 152 this week. His record was 0-3. Reum missed weight by ounces.
"He wrestled good, just battling some issues," Vandall said. "He will be there at the end of the year and should be good."
Johnathan Williams wrestled at 145. "Jon Jon is a first year junior for us. He went 1-1 on the day. I was very happy with Jon Jon," Vandall said. "He goes 100 miles per hour at all time. It's really fun and exciting to watch his matches. We just need to slow him down, and he will be good."
Sam Boysun, a freshman, wrestled up at 160 pounds.
"Sam missed weight and wrestled up this weekend. Sam did good, I believe, he went 1-1 also. Sam is a second- year wrestler. He did well."
The Reed brothers, Kasey and Jesse, had solid weeks.
"Kasey is a freshman and has wrestled forever in AAU. He did a great job. I believed he won a couple matches, lost one maybe," Vandall said. "Kasey is a very smooth wrestler when he wants to. He wrestled at 132."
Jesse wrestled up for the duels at 138 pounds.
"Jesse is an eighth grader and has wrestled for years in AAU. Jesse wrestled great. He won two and lost one, that I know of, and that loss to us was a huge win. He wrestled a defending state champ from Baker. He lost the match by 10. He never got pinned or technical fall. So they only got four points as a team instead of five or six."
The coach said, "I'm very pleased with the boys' performance. They were at the elementary school in Sidney with Coach Martinez."
The girls wrestled a mixer at the high school. Competing were Jeina Reum, Samantha Reed and Joli Beston.
Reum is an eighth grader and has wrestled AAU for a long time also. She wrestled at 100 pounds.
"She did a great, she got two matches Friday in the mixer and won both by fall," Vandall said. "She only weighs 91 so weight isn't too much of an issue to make, but we give up a lot."
Samantha Reed, a senior, had a good day. She wrestled up at 145.
"She did a good job, she went 1-1. She gave up too much weight. She did a good job though," Vandall said. "We need her to get a little more aggressive and offensive. It will come."
Joli Beston, a junior, wrestled at 138 pounds. She went 2-0 in the mixer.
"Joli did well. She came out and dominated her girls," Vandall said. "We have to work on getting offensive. She has a great shot when she shoots. We gotta get her shooting."
On Friday night, wrestlers started the big meet.
"We wrestled two rounds and the JV wrestled one," Vandall explained. Boysun went 1-2 and missed placing in the top eight by one match. Williams went 2-2 on the day and took seventh.
"I'm very pleased with both," Vandall said. "They wrestled hard and gained valuable experience."
Kasey and Jesse Reed each wrestled at 132 pound for the big event. They each went 0-2.
"These two are going to be a force to reckon with. They both wrestled seniors and defending state champs. They did well. We had some great scrambles that went our way. We made little mistakes. When we are at this level, we really need to limit those. We will chalk this up to learning."
For the girls, Reum had a combined weight class since 100 and 107 were put together. So now, instead of giving up 10 pounds, she gave up 17. She did great with a 3-2 record and third place. She lost to a defending state champ and a girl that was 107.
"She has a few things to fix, nothing big, but we will get them taken care of," Vandall noted.
Samantha Reed took fourth with a record of 1-3. Beston took second with her only loss to a defending state champ.
"A few things to work on and we will be good," Vandall said.
The Wolves will be at home Thursday, Dec. 8, and in Glasgow on Friday, Dec. 9, and Saturday, Dec. 10.
"If you're in the area, come support us. We look forward to seeing you," Vandall said.