Posted on
Wilmer "Harvey" Fast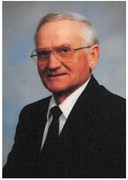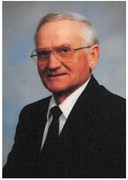 Wilmer H. "Harvey" Fast, 92, passed away peacefully to his heavenly home Nov. 19, 2022, at Valley View Nursing Home in Glasgow.
Harvey was born on June 5, 1930, on the Fast family homestead in Lustre, Mont., to Peter and Aganetha (Ratzlaff) Fast. Harvey was the youngest of nine children (six living and three died in infancy). The older siblings had gone to choir practice and, upon returning home, their father announced they had a "new baby brother" delivered by Mrs. J.J. Baker, the local midwife. Times were hard and that made an older sibling say "we have enough work already!" This was the beginning of the terrible dust storms and drought of the 1930s.
Harvey attended Star School half a mile from the homestead for one year before it closed in 1937. The closure was due to the enrollment dropping by seven children when the cousins from the Abe Fast family made the move back to Mountain Lake, Minn. He then finished his grade school years a Todd Lake School four miles from home.
Harvey received Jesus as his personal Lord and Savior at a young age after attending an evangelistic meeting and was baptized in a pond close to Todd Lake.
Harvey's dad had purchased a house from the Fort Peck Dam project and had it moved to Lustre where it became the family home. One chore he had every morning before school was digging a cistern by hand in the basement of the house by filling a bucket with dirt so his mother could then pull it up with a rope. He also attended Glasgow High School which required staying with his aunt Helen Ratzlaff and later boarding at the Waitschies apartments, graduating in 1948.
Harvey married Gladys Funk on Oct. 28, 1951. They were blessed with four children: oldest daughter Shirley, followed by identical twin daughters, Jean and Joan and son Warren. Harvey was a member of the Lustre MB Church. He and Gladys gave generously to missions and
https://www.cdc.gov/coronavirus/2019-ncov/symptoms-testing/symptoms.html
He and Gladys faithfully attended Glasgow Evangelical Church. In October of 2021, they celebrated 70 years of marriage.
Preceding him in death were his wife, Gladys Fast; parents, Peter and Nettie Fast; brothers, Ervin (Ruth) Fast, Marvin (Esther) Fast and Walter Fast; sisters, Evangeline (Joe) Wiens and Edna Fast; son-in-law, Duane Nasner; and great-grandchildren, Blake Reddig, Magdalena, Delilah, Eden, Alice and Elijah Unger.
Harvey is survived by his children: Shirley Nasner of Wolf Point, Mont., Jean and Ken Joiner of Bozeman, Mont., Joan and Keith Unger of Lustre, Mont., and Warren and DeeDee Fast of Lustre, Mont.; 10 grandchildren: Lynae (Nasner) and Gary Gackle, Scott and Jennifer Nasner, Andy and Joy Unger, Jennifer Unger, Chris and Jess Unger, Luke and Jennifer Unger, Rochelle Unger, Rebecca (Unger) and Randy Reddig, Tony and Amy Fast, Craig and Lindsay Fast; great-grandchildren: Hannah, Caleb and Grace Gackle, Xavier, Kate, Matthew and Myah Nasner, Isabelle, Canaan, Edwin, Jedidiah and Everly Unger, Swayze Vivrette, Ada Unger, Avery, Ryder and Ella Unger, Cameron, Harlo and Marlee Reddig, Natalie, Aleah and Maycie Fast, Addilyn Harrison, Janelle and Maxwell Fast; and many friends and family.
As a family, we wish to give a heartfelt thank you to the staff of Prairie Ridge and Valley View Home for the loving care they gave both Harvey and Gladys in recent years. Their dedication is appreciated.
You may stop by Bell Mortuary to pay your respects to Harvey Friday, Dec. 9, 2022. Family will receive friends Sunday, Dec. 11, 2022, from 4 to 6 p.m. at Bell Mortuary. A private family burial is planned with a celebration of life planned for June 2023. Condolences may be left for the family at bellmortuarymontana. com. Memorials can be made in Harvey's name to Lustre Christian High School, 4 Lustre High Cir, Lustre, MT 59225.
(Paid Obituary)