Posted on
Bainville Boys Break Away To Take Thunder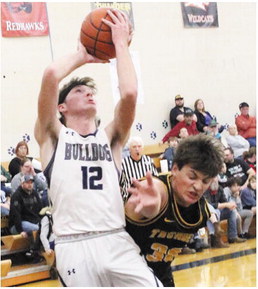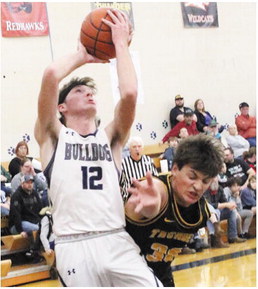 with a dunk by Strickland and a steal and dunk by
Bainville's boys' basketball squad broke away in the third quarter to beat MonDak, 5231, at home on Saturday, Dec. 3.
The Bulldogs led 24-16 at the half and only 24-17 midway into the third quarter until three-pointers by Ayden Knudsen and Reese Harmon put the margin at 13 points.
Free throws by Charles Butikofer and Alex Strickland along with an inside shot by Sam Butikofer put the score at 34-21.
A pull-up jumper by Knudsen and a basket by Cayden Boyd, off an assist from S. Butikofer, produced a 38-24 lead at the end of the quarter.
The Bulldogs kept rolling in the fourth quarter as hoops by Boyd, S. Butikofer and C. Butikofer put the lead to 44-21. Two free throws by Knudsen and another basket by Boyd were good for a 48-31 advantage.
The final minute was highlighted C. Butikofer.
Reaching double figures for the Bulldogs were C. Butikofer with 15, Knudsen with 11 and Strickland with 11. Also scoring were Boyd with six, S. Butikofer with six and Harmon with three.
Top scorers for the Thunder were Adam Paine and Elliott Rudningen with seven points each.
The Bulldogs, 2-0 for the season, jumped out to a 10-2 lead as C. Butikofer tallied four of the points.
Bainville held a 15-7 lead at the end of the opening quarter.
A three-pointer by Strickland helped lift the Bulldogs to a 13-point lead in the second quarter. MonDak battled back to cut the gap to 24-16 at the half.
The Bulldogs will travel to Culbertson on Friday, Dec. 9, and host Circle on Saturday, Dec. 10.