Posted on
Lustre Shoots For Strong Year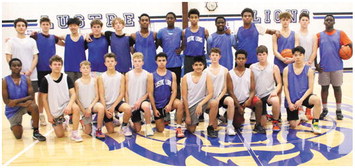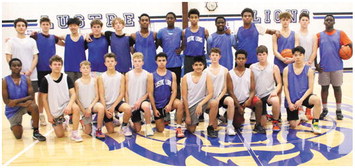 After coming a game away from a state tournament berth last season, Lustre Christian's boys' basketball squad should feature one of the top teams in Eastern C again.
The Lions have a great turnout of 24 athletes this season.
"It's the highest we've ever had," Lustre coach Randy Reddig said of the amount of players.
Starters back for the Lions are senior Jasiah Hambria, senior Elijah Lenihan and junior Cayden Klatt. All three earned All-Conference honors last season.
Braden Ewing, a powerful 6-3 senior, also started at times for Lustre. Other players with a good amount of varsity experience include sophomore Clay Reddig, senior Alex Chen and senior Bryan Chen.
Coach Reddig expects the Lions to put together another successful season.
"We're more athletic actually," the coach said when comparing this year's team to last season. "We have a little less experience."
Coach Reddig is pleased with the players' attitudes.
"Right now, it's probably the highly intensity practices I've ever had," he added.
He feels that Scobey and Dodson will also be near the top of the District 3C standings.
The Lions will open their season with tournaments in Glasgow and Scobey. Opponents will include Malta's JVs, Wolf Point's JVs, Fairview and Plentywood.
The District 3C tournament is scheduled in Glasgow on Feb. 15-18, and the divisional tournament is March 1-4 in Wolf Point.
Lustre Boys' Basketball Schedule Dec. 2: at Glasgow Invitational Dec 3: at Glasgow Invitational Dec. 9: at Scobey Invitational Dec. 10: at Scobey Invitational Dec. 16: Nashua Dec. 17: at Culbertson Dec. 19: Bainville Dec. 20: at Scobey Jan. 7: at Frazer Jan. 13: at North Country Jan. 14: Dodson Jan. 19: at Nashua Jan. 21: Culbertson Jan. 24: Scobey Jan. 27: at Bainville Feb. 4: Frazer Feb. 10: North Country Feb. 11: at Dodson Feb. 15-18: District Tournament (Glasgow) March 1-4: Eastern C Divisional (Wolf Point) March 8-11: State (Billings)