Posted on
Jackson Apprehended By Law Enforcement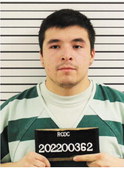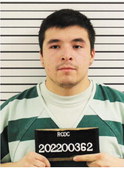 Dylan Troy Jackson, 20, of Wolf Point was apprehended by law enforcement in the early morning hours of Sunday, Nov. 27.
He was wanted in federal court following accusations of kidnapping and assaulting a teenage indigenous girl on the Fort Peck Indian Reservation during 2021.
Recently, the FBI asked the public for assistance in finding Jackson. He is one of six people indicted in federal court on charges of kidnapping and assault.
Jackson, along with Cheri Cruz Granbois, Elmarie Amelia Weeks, Lavanchie Patricia Goodbird, Kaylee Jade Jackson and Patti Jo Annunciata Mail allegedly abducted the teen Sept. 15, 2021, in Wolf Point.
Jackson was booked into the Roosevelt County Detention Center at 1:06 a.m. on Sunday, Nov. 27. The Wolf Point city police, fire department, Roosevelt County Sheriff's office and Fort Peck Tribes Department of Law and Justice worked together to catch the wanted fugitive.