Posted on
Community Choir To Share Music During Stroll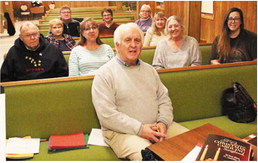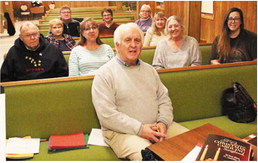 Residents can enjoy the talents of the community choir as the singers will perform during Wolf Point's Christmas Stroll on Saturday, Dec. 3.
Pastor Arch Woodstock of Community Bible Church says the choir, which consists of about 15 members, will perform four or five traditional Christmas carols to celebrate the season. Songs might include Joy to the World, Away in a Manger and Mary, Did You Know?
Woodstock says the choir practiced quite a bit during the fall in preparation for a concert held in October. "It was wonderful," Woodstock said of that performance. "We have good soloists in the group." During the holiday season, the choir will also entertain at Faith Home and is looking for additional singing opportunities.
He noted that he began the community choir becomes he feels music is a key part of ministry. He started out as a choral pastor.
"Music is a part of what I really love," Woodstock said. "In the church ministry, it's so important."
The choir features members of several churches in the area.
"We really like that. We put some ads in the newspaper to attract them," Woodstock said. "We've developed a good group of singers in the choir now."