Posted on
Red Hawks Fall Just Short In Semi-Final Round Game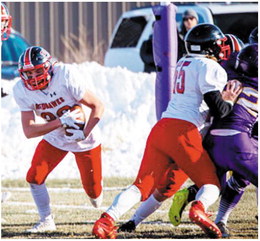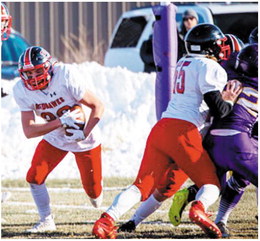 The Froid/Lake Red Hawks came a play or two and a point away from pulling off a playoff upset on Saturday, Nov. 12. Despite a fantastic effort by the Red Hawks, Broadview/Lavina escaped with a 35-34 home semi-final football victory in six-man action.
Each squad scored a touchdown in the first quarter, which ended with the Pirates up 8-6. Froid/Lake's score came on a 62-yard kickoff return by Austen Hobbs.
After Broadview/Lavina gained 16-6 lead, Hobbs returned another kickoff for a touchdown, this time covering 60 yards, to pull to 16-12.
The Red Hawks earned their first advantage when Mason Dethman connected with Hobbs on an eight-yard pass. Dethman's kick put the margin at 20-16.
A 13-yard pass from Dethman to Hobbs reached the end zone near the end of the half. Dethman's kick put the Red Hawks up, 28-16, at the half.
The Pirates accounted for the first two touchdowns of the third quarter to pull even at 28-28.
The Red Hawks responded with a 60-yard, 15-play scoring drive. The first crucial play of the drive came when Dethman fought for eight yards to earn a first down at midfield on a fourth-andthree situation. An 18-yard dash by Nate Stentoft on a counter play resulted in a first down at the 22.
After Hobbs gained a first down on a fourth-down play at the six, the Red Hawks scored when Hobbs made a nice, reaching catch on fourth down for a touchdown and a 34-28 lead.
Broadview/Lavina then drove inside the Froid/Lake 25, but defensive efforts by Quinn Abar, Dethman and Stentoft ended the threat with under four minutes to play.
After the Red Hawks' offense was stopped, the Pirates drove 59 yards for a touchdown with 34 seconds left. A pass from the one tied the game, and then Broadview/ Lavina earned the conversion on a pass play for the lead.
The Red Hawks had the ball inside Broadview/Lavina territory in the last minute, but three passes fell incomplete including the final attempt which featured a lot of
contact.