Posted on
Pink Night Raises $2,711 For NEMHS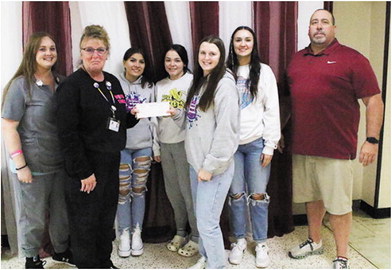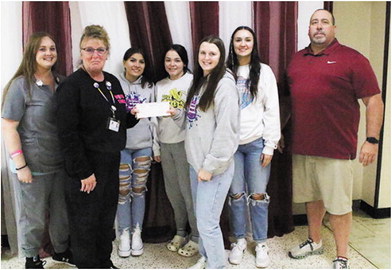 The Wolf Point volleyball squad served up a winning effort when the program accounted for a successful Pink Night this season.
Last week, the students made the presentation of a $2,711 donation to the Northeast Montana Health Service for breast cancer treatment.
The money was raised when a silent auction, raffles and bake sale were conducted on Oct. 13, in conjunction with Wolf Point's home volleyball match against Circle.
Katelyn MacDonald, a senior for the Wolves, said her favorite part of the event was the decorating and setting up.
"It's nice that everybody got involved," MacDonald said.
Mahala Moran, a senior, added, "Everybody contributed."
J'Elle Garfield noted the some of the Circle players and parents became involved in purchasing baked good and making silent auction bids.
Wolf Point coach Karli McGowan expressed appreciation to businesses and community members for donating gift baskets or gift cards for the silent auction.
After the match, both teams joined in for a group photo. All the players were wearing pink shirts donated by Nemont.
"It showed good sportsmanship," MacDonald said of the teams were both interested in breast cancer awareness.