Posted on
Medicine Lake Mechanic Roams From Wolf Point To Williston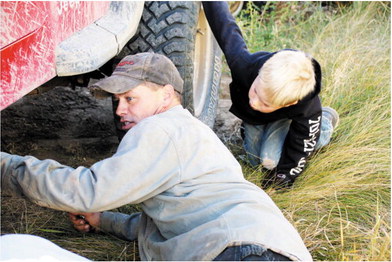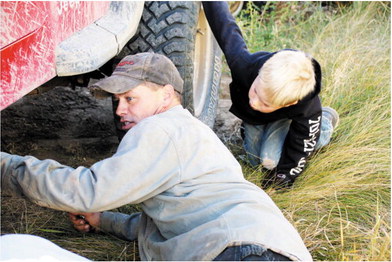 Mechanic Stephen (pronounced "Steffen") Roness relocated to the Medicine Lake area from Williston, N.D., a little over two decades ago seeking work as a farm hand. A growing family helped him set down roots, including an automotive shop on the south end of town. At the shop, Roness twists wrenches while raising sons Tucker (11), Dayvin (9) and Everette (7) and four-year-old daughter Locklyn. He also services vehicles at the family's beautiful home on St. Patrick Avenue, which he shares with wife Tasha.
In the shop built by fatherin- law Jeff, Roness solves automotive problems that come in from all over the region. He told the Northern Plains Independent that he sees a wide variety of used vehicles and specialty jobs that no other auto shop in the area is likely to tackle. "I just really love to fix things," Roness said. "I'll work on just about anything."
The Roness Repair shop is surrounded by project vehicles, which the proprietor is often open to trading/selling for clients. It's not uncommon to find multiple repairs ongoing at the same time, with Roness bouncing energetically from one vehicle to the next.
Via his propane powered service truck, Roness visits customers as far north as Plentywood and Scobey and he ranges east and west from Wolf Point to North Dakota. He provides service calls to Culbertson residents like Sharon Matney and can be found regularly at Dun O'Connor's ranch north of Poplar servicing farm trucks and other vehicles.
Roness started out working as a mechanic in earnest by building grain silos around the region. He attended high school in Williston. Locals may also remember him from Napa Auto Parts in Culbertson. These days, Roness can be found on the road with one or more children in tow, school schedules permitting, or tackling bigger jobs at the main shop in Medicine Lake.
Roness' hours are flexible and he takes jobs by appointment based on availability. He can be reached at 406-7657745 or by visiting the shop.