Posted on
Cut Bank Downs Wolf Point At Northern B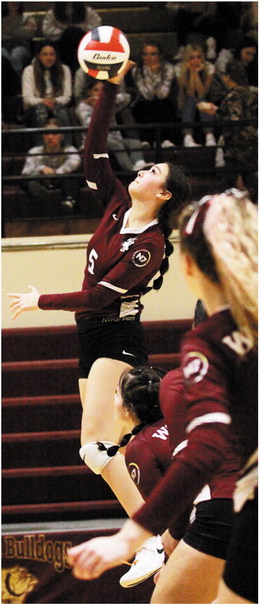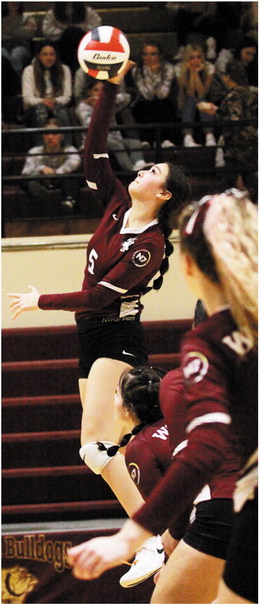 Wolf Point's volleyball season came to an end with a hard-fought four set defeat against Cut Bank during the Northern B divisional tournament in Choteau on Friday, Nov. 4.
Cut Bank survived with a 25-21, 25-27, 25-23, 25-20, victory.
Wolf Point fell behind early in the opening set, but a kill and block by J'Elle Garfield along with an ace by Sierra Hamilton tied the score at 1717. Another ace by Hamilton and a tip by Kylie Rodenberg put Wolf Point ahead by a 1917 margin.
Wolf Point led by a 21-19 margin, but Cut Bank then accounted for the last six points of the first set.
Wolf Point used kills by Kaleah Miller-Toves and a hit by Katelyn MacDonald to pull even at 13-13 in the second set. Two kills by Garfield and an ace by Miller-Toves produced an 18-15 lead for Wolf Point.
Wolf Point fell behind by a 25-24 margin, but a kill by Joli Beston tied the score at 25-27. Wolf Point earned the next two points to take the second set.
The third set was nip and tuck the entire way as a block by Hamilton and a tip by MacDonald kept Wolf Point even. A kill by Kylie Rodenberg was good for a 20-19 Wolf Point lead.
After Cut Bank moved ahead, Wolf Point scored on a hit by Garfield for a 21-21 deadlock. Wolf Point gained a 23-21 lead, but Cut Bank struck for the last four points of the third set.
Wolf Point got off to a strong start in the fourth set as kills by Miller-Toves and Garfield led the way to a 10-7 lead. A tip by Hamilton and an ace by Jerzey Azure put Wolf Point ahead by a 13-9 margin.
Wolf Point appeared to be in good shape when a spike by Garfield and a tip by Azure increased its lead to 18-11. Wolf Point went on to earn a 20-14 advantage, but then struggled with serve receive for the rest of the match. Cut Bank ran off the last 11 points for a 25-20 win.
Hamilton accounted for a strong match for Wolf Point with six aces and four blocks.
Rodenberg finished with nine assists.
MacDonald accounted for 32 digs. Garfield scored 10 kills.
Leading Cut Bank was Makenna Burke with six aces, 13 kills and 15 digs. Darci Littrell had 14 digs and five kills. Kenzie Stiner added six aces.