Posted on
Comeback Victory Highlights Red Hawks' Play At Tournament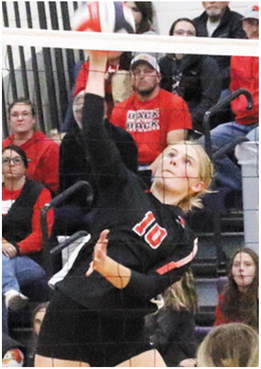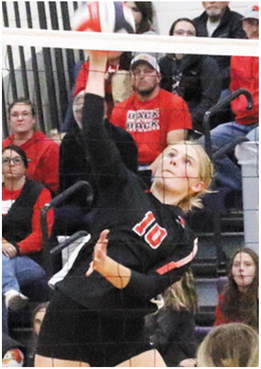 With their season on the line, the Froid/Lake Red Hawks came up with the comeback of their lives at the Eastern C volleyball divisional tournament in Culbertson on Friday, Nov 4.
After dropping the first two sets against Broadus, the Red Hawks fought their way to a 25-27, 18-25, 26-24, 25-20, 15-11, victory.
The Red Hawks appeared in big trouble when they lost the opening two sets and trailed 8-6 in the third set. The amazing comeback started when a tip by Baylee Davidson, a block by Carolyne Christoffersen and an ace by Aleah Johnson put Froid/Lake ahead 9-8.
The serving of Mara Salvevold and net play of Dasani Nesbit led the way to a 15-11 advantage. The Hawks, however, grabbed a 17-15 upper- hand. With the score even at 21-21, the Red Hawks earned two points on kills by Christoffersen. Another kill by the senior produced a 24-23 lead.
After Broadus tied the third set at 24-24, the Red Hawks stayed alive with a kill and a block by Nesbit for a 26-24 win.
Froid/Lake gained a 14-9 advantage in the fourth set as action was highlighted by the net play of Nesbit, Jaeleigh Davidson and Christoffersen.
Ahead by a 15-11 margin, the Red Hawks struck for six straight points including three strong serves by Salvevold and a block by Nesbit.
After a strong net play by J. Davidson put the gap at 2314, the Hawks battled back to as close as 24-20. The Red Hawks ended the fourth set on a kill by Salvevold.
In the fifth and deciding set, the Red Hawks trailed 4-0 before the play of Christoffersen led the charge to a 4-4 deadlock.
Down by an 8-5 margin, the Red Hawks pulled even on three kills by Nesbit. Another kill by Nesbit produced a 10-9 advantage.
With the score deadlocked at 10-10, Froid/Lake accounted for the next three points including one on a kill by Salvevold.
Broadus cut the gap to 13-11, but the Red Hawks earned the last two points including one on another kill by Salvevold.
Nesbit finished the match with 10 kills, 13 blocks, three aces and six digs. Christoffersen accounted for nine kills, eight blocks and three digs.
B. Davidson had 24 assists, two digs, an ace and a block. Johnson finished with 20 digs, an ace and an assist.
Salvevold scored five kills, four aces, eight digs and an assist. J. Davidson added four kills, four digs and a block.
Alexa Nelson finished with five digs. Brooklynn Nordwick had one block and two digs.