Posted on
Froid/Lake Takes Bulldogs At Tourney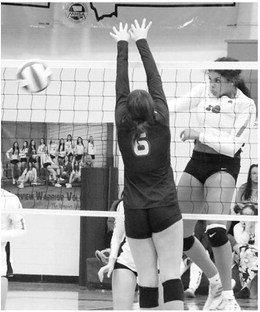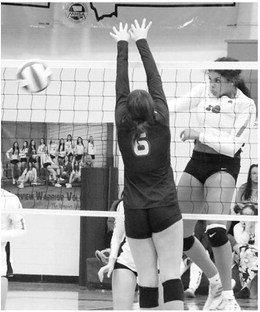 The Froid/Lake Red Hawks fought off Bainville, 27-25, 25-14, 29-27, in a well-played match at the district volleyball tournament in Plentywood on Thursday, Oct. 27.
The Red Hawks utilized strong net play by Carolyne Christoffersen and Jaeleigh Davidson to gain a 13-7 advantage in the first set. Bainville stayed close on two spikes by Lila Butikofer and a block by Elsie Wilson. After a perfect tip by Baylee Davidson put the Red Hawks up 16-11, a kill by Christoffersen and a tip by Dasani Nesbit increased the gap to 19-13.
With Froid/Lake up by a 21-16 margin, Bainville battled back on an ace by Brecklyn Pippenger and two kills by Miah Pippenger to cut the gap to 21-20. A spike by Wilson and two hard serves by Kendra Romo tied the game at 23-23.
Deadlocked at 25-25, the Red Hawks won the first set on a tip by B. Davidson and a serve by Mara Salvevold.
The Bulldogs kept the second set close early as kills by B. Pippenger and Hailey Berwick put Bainville down by only a 14-11 margin.
Froid/Lake pulled away on kills by Nesbit for a 21-14 advantage. Makaylee Elvsaas served an ace for a 22-14 lead. Another kill by Nesbit gave Froid/Lake a 25-14 victory.
In the third set, Bainville tied the score at 16-16 on a kill by Berwick, but a kill and ace by Salvevold put the Red Hawks back into the lead.
The Bulldogs still trailed at 22-20 until kills by Wilson and Berwick earned Bainville a 24-22 advantage.
A kill by Froid/Lake's J. Davidson tied the score at 24-24. Kills by Salvevold produced two match points, but Bainville fought each of them off to stay alive.
With the score even at 27-27, Froid/Lake ended the match on a kill and ace by Salvevold.