Posted on
Froid/Lake Stops Wibaux, 58-13, In Regular Season Finale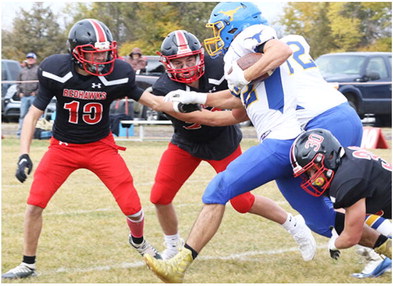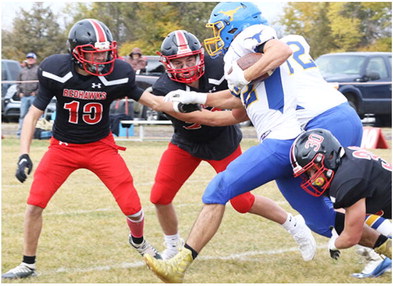 The Froid/Lake Red Hawks capped off their undefeated conference football schedule by cruising to a 58-13 home victory over Wibaux on Saturday, Oct. 22. The two-time defending state champions will start playoff action at home on Saturday with kickoff at 1 p.m. The Red Hawks will face Denton/Geyser/Stanford/ Geraldine. The Red Hawks lost a defensive battle, 20-14, against the Bearcats early this season.
Froid/Lake's victory over Wibaux began with the defensive unit, led with tackles by Mason Dethman and Caden Kelm, forcing Wibaux to punt from deep inside its territory.
The Red Hawks scored on their second offensive play when Austen Hobbs sprinted 60 yards for a touchdown.
The Longhorns battled back with a 55-yard scoring drive that included a 31-yard touchdown run by Will Ree. Wyatt Ree scored the conversion to put Wibaux up 7-6 with 5:42 left in the opening quarter.
It didn't take long for the Red Hawks to regain the lead as Hobbs raced 42 yards for a touchdown with 5:04 left in the period. Dethman kicked the conversion for a 14-7 margin.
A short time later, Kelm came through with an outstanding defensive play as he forced a fumble on a sack at the Longhorn 21. Dethman connected with Kelm on a 24-yard touchdown pass with 2:07 left in the quarter. Dethman kicked the conversion for a 22-7 advantage.
Wibaux's next possession ended when Nate Stentoft made the tackle short of the needed yardage on a fourthand-one attempt. On second down from the Wibaux 32, Dethman rolled out and passed to Kelm at the 15. After the catch, the senior raced in for another score. Dethman's kick put the margin at 30-7 with 9:51 left in the half.
The Longhorns accounted for their second touchdown of the game when Will Ree scored on a 20-yard run with 6:39 remaining in the half.
After a pass from Dethman to Hobbs put the ball at the Wibaux 30, Hobbs accounted for the run of the day when he broke three tackle tries for a 29-yard gain to the one. On first down, Hobbs scored with 5:26 left in the half.
The Red Hawks struck again on a 31-yard pass play from Dethman to Daniel Forizs with 1:13 remaining in the half. Dethman's kick increased the advantage to 4613.
Froid/Lake added two more touchdowns in the second half for the 58-13 final.
In the third quarter, Dethman connected with Max Engelke on a 35-yard touchdown pass.
In the fourth quarter, Roberto Orozco broke loose for a 32-yard touchdown run.