Posted on
Culbertson/Bainville Runs To Honors At State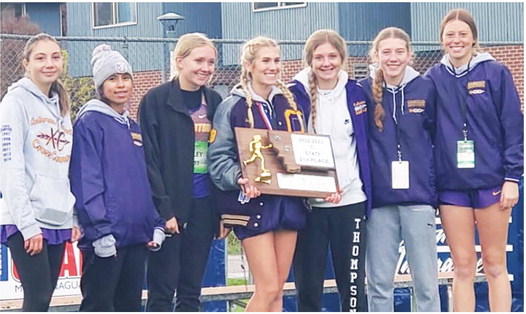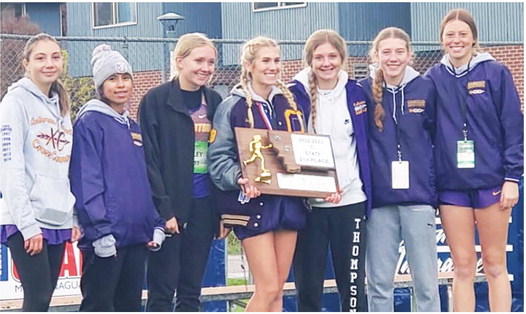 The Culbertson/Bainville girls' squad put together an outstanding effort to earn second place at the Class C state cross country meet in Missoula on Saturday, Oct. 22.
Culbertson/Bainville finished with 50 points to capture the second-place trophy. Manhattan Christian topped the standings with 37 points.
Also in the top five were Scobey with 55 points, North Toole County with 59 and Plentywood with 60 points.
"Coach Hyatt and myself feel that all the runners truly did their best on Saturday," Coach David Solem said. "At State, we often do not pay attention to time, but instead focus on places. Some of the runners finished where they were ranked and some moved up the rankings for State so that was positive."
Culbertson/Bainville senior Kayli Olson earned All-State honors by placing 12th with a time of 21:41.5.
"We were very happy for her. In 2020 she was All-State also, but due to the COVID rules there was no ceremony when awarding the All-State medals, they were handed out in the parking lot as the teams were leaving, which we thought was a lousy thing to do to kids. Last year she missed All-State by four places so she was disappointed. We are glad she got to stand on the podium for the award this time around, she definitely earned the 12th place spot this year," Solem said.
Last year, Olson placed 19th with a time of 23:45.2. "I definitely did a lot better. I just wanted it more this year really," Olson said.
She explained that she was "really excited" about earning All-State status and was pleased to share the awards stand with many other outstanding runners that she knows well. "It was my goal this year," Olson said of making All-State. "I was happy to there with all my friends. I was really happy that Annie [Kaul] was the state champion."
Hailey Berwick, a freshman, earned 16th place at 22:29.0.
Elsie Wilson, a sophomore, finished in 22nd place at 23:20.3.
"We figured they would finish around where they did, they are both talented athletes who are also fierce competitors, they both truly run with all heart and leave everything out on the course," Solem said.
"I'm super proud of them because they really only got to run in four meets all year because they play volleyball," Olson said of Berwick and Wilson. "It was their first state cross country meet."
Rebekah Ellerkamp, an eighth-grader, placed 41st at 24:50.5.
Jade Lonebear, a freshman, finished in 50th place at 25:32.7.
Megan Granbois, a senior, took 53rd, at 23:45.0.
Destiny Thompson, a junior, placed 54th at 25:46.1.
It's the second straight year that Culbertson/Bainville placed second in the team standings at state.
"We were ranked third and it was really close," Olson said. "I thank all of our supporters."
Plentywood's senior Annie Kaul was the individual champion with a time of 19:10.4.
Right behind was Manhattan Christian's Jadyn Vandyken at 19:11.1. Whitewater's Shelbi Labrie finished third at 19:44.6. Scobey's Mya Green took fourth at 19:59.0. Scobey's Mia Handran placed sixth at 20:49.6.
Culbertson /Bainville's boys placed 16th in the team standings with 234 points.
"It was a blessing to bring home another trophy from state, but most important was getting to watch both the boys and girls grow up by improving their times and learning the value of hard work," Solem said.
Manhattan Christian won the team title with six points followed by West Yellowstone with 23 and Plenty Coups with 64 points.
Manhattan Christian's Oren Arthun was the individual champion with a time of 16:52.8.
Drae Nelson, a senior, led Culbertson/Bainville's boys with a time of 21:21.8 for 72nd place.
Dawson Bergum, a sophomore, placed 79th at 22:02.0. Maurice Bighorn, a senior, took 83rd place with a time of 22:08.6.
Trevor Green, a senior, placed 96th at 22:55.6. Angel Burciaga placed 98th at 22:57.5.
The state meet ended another solid season for the cross country program. Solem said there are keys for keeping the success going.
"First, I have a great help with Mr. Hyatt helping me. He ran at Carroll College so he brings in lots of training ideas that I do not have since I never did cross country and the runners really look up to him as an inspiration since he is a local kid who went on to do big things in track and cross country at the next level," Solem said. "Second, I feel we have a strong tradition of success that dates back to the 1990s, kids that are running now for the team in elementary, junior high and high school know that kids just like them from Bainville and Culbertson were all state runners and team state champions in the past. Future runners can see that those before them helped pave the way. Lastly, over the years, we have just had a lot of individual talent that has a natural desire to set and accomplish goals."