Posted on
Community support key for cancer patient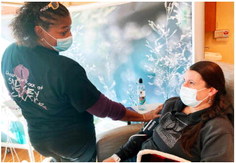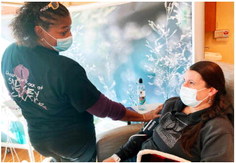 By James Walling
When 32-year-old Tegan Keller received a diagnosis of invasive Stage 3C breast cancer in August, her first question was about lifespan. "I have two young children," Keller said, "so my primary concern was seeing them grow up and being able to raise them myself."
Keller, who is originally from Illinois, has lived in Glasgow for over a decade, but she has roots across the Hi-Line, having lived and worked in Culbertson and served as a 911 dispatcher in Wolf Point. She currently lives in Fort Peck and drives a rural postal route in Roosevelt County and she drove a 160-mile rural loop for the U.S.P.S. north and south of Poplar for two years.
That's where she met the crew at Black Bird Mercantile in Poplar.
"The working community in Poplar is pretty tightly knit," Keller said. "I found a lot of support and good energy during some very long days on the road," she said.
"Whoa Nelli Deli and Black Bird kept me going."
Now, she needs a different level of support. With 16 weeks of chemotherapy and a double mastectomy to follow, Keller is testing the limits of an already challenging life. After Black Bird's Amysue Hunter heard about Keller's diagnosis, she immediately suggested a fundraiser.
"You help when you can," Hunter said. She said the crew at the coffee shop have participated in recent fall festival activities and other community events in Poplar but this is their first cancer-related fundraiser.
Black Bird Mercantile celebrated their grand opening in April.
"Tegan delivered our mail," Hunter said. She said when she found out about Keller's diagnosis, it was already Breast Cancer Awareness month and she knew she wanted to help. Staff organized specialty drink sales (a pink Lotus with glitter) with proceeds going to Keller and her family. The team also ordered 200 silicone bracelets to sell for "Team Tegan" and Hunter is designing T-shirts and hats. Coworker Holly Colgan leads a double life as an ag producer, but she helped Hunter develop the fundraiser and is spearheading 50/50 ticket sales. A live drawing is planned for the 50/50 with additional prizes. Recent hire coworkers Julie Granbois and Gillian Medicine Cloud are also assisting with fundraising efforts. Hunter said Black Bird owner Noah Strauser has encouraged Hunter and Colgan to be active in the community.
When Keller found Dr. Chad Petersen in Sidney, she said she was immediately reassured, despite the heavy prognosis.
"People kept recommending him wherever I asked," said Keller. "They used words like 'genius.' I feel like I'm in very good hands."
Sidney Health Center has been a not-for-profit community-based medical center in the region for more than a century. Dr. Pedersen, a native of Sidney, joined the health center as its only medical oncologist in 2017. Since that time, he has cared for a population of cancer patients who are often low-income and may live more than two-hours by car from Dr. Pedersen's practice.
Keller said the drive from Glasgow is long, but she considers it a blessing when compared to commutes faced by other cancer patients in the area, many of whom are referred to Billings for treatment.
"Compared to Billings," said Keller, "the commute to Sidney is a lot more manageable."
Keller said that the staff at the Sidney Health Center Cancer Care Suite have been incredibly competent and compassionate.
"They really have been looking out for me, pulling for me," Keller said.
Along with director of cancer care Beth Mindt, Keller said her team includes registered nurses Courtney Jensen, Kelsey Perez, Judy Carda, Trung Truong and Katharine King (Bell). Many of the staff have deep roots in the community. King's father, Dr. Gordon Bell, was a beloved physician at Glasgow's Frances Mahon Deaconess Hospital for 39 years. Her sister, Dr. Amy Hopstad, is the new OBGYN specialist at FMDH.
Traveling nurse Debra Wilson has been a special addition to Keller's community of care. Wilson, who hails from the Oklahoma City area, has been working at Sidney as a traveling nurse. Keller said Wilson has helped her face losing her hair, dealing with body image issues and overall morale.
"She really made me feel better when we talked about losing my hair," Keller said. "She showed me a picture of her sister with her head shaved. It helped me feel like I could still be beautiful with a bald head," she said. "Though I don't know if want to," Keller added. "It gets really cold up here."
Keller's longterm prognosis is good, according to Dr.
Petersen. At press time, she was on week two of chemotherapy and holding fast.
"I'm feeling okay so far," Keller said, "feeling pretty fatigued but I have good days and fewer bad days." She said the ongoing community-based support has made a real difference in her life, helping to keep morale high for her and her children, seven-year-old Sylas and 10-year-old Carley.
"It makes a scary situation a lot more bearable," Keller said.
Other breast cancer fundraisers in the community this month include a "Bucks for Bras" auction fundraiser hosted by Wolf Point Chamber of Commerce & Agriculture at the Sherman Inn Oct. 28 from 5-7 p.m. Activities will include a live bra auction, fundraisers, giveaways and a photo booth. There will be light appetizers and a no-host bar.
Sidney Health Center nurse Debra Wilson preps cancer patient Tegan Keller for her first chemotherapy infusion on Oct. 4, 2022.