Posted on
Event Marks Opening Of Student Memorial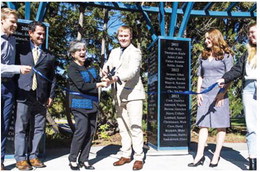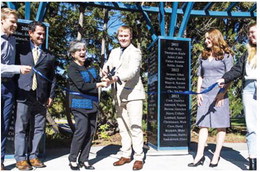 Dozens of people gathered at Montana State University on Wednesday morning under sunny skies to mark the reopening of a renovated memorial that honors students who have died while enrolled at MSU.
The outdoor space, which displays names dating to 1990, is located just off the west entrance of the Centennial Mall near the Duck Pond. As part of its redesign and renovation, the student memorial and the names of the students it honors are now more visible, and the site includes outdoor seating, new trees and landscaping.
Associated Students of MSU President Lucas Oelkers welcomed approximately 75 people to the event and led attendees in a moment of silence. He said student leaders chose to support the renovation of the memorial because it's important to recognize all students' lives and efforts at MSU.
The memorialized students will "always be part of our Bobcat family," Oelkers said.
In her remarks, MSU President Waded Cruzado noted that the memorial is a reminder of "one of the saddest parts of life at our university.
"Every single time one of our students dies, it is very, very hard," she said.
Still, Cruzado said, it's important to celebrate the reopening of the "wonderful new space" and the students the memorial honors. "They are Bobcats, and we will never forget them."
Cruzado and MSU Dean of Students Matt Caires both recognized a number of people who have supported or contributed to the renovation, including MSU student leaders, staff members and administrators, community members who provided architectural services and contractual work, and project donors.
"There are so many people to thank," Caires said. "A project like this really does take a village."
He specifically recognized Kathy Thompson, the mother of a student who died while enrolled at the university and who traveled to Bozeman from Eugene, Oregon, for the reopening; Cruzado; MSU Vice President for Administration and Finance Terry Leist; Marianne Brough, director of the MSU Office of Student Engagement and ASMSU; and Jenny and Mark Mummert, who provided a significant donation.
The original student memorial was built in 1990 after the deaths of two students in Langford Hall. But a surrounding wall closed it off visually, and it was not wellknown on campus, according to Caires. Also, there was no clearly established process for ensuring that the memorial was regularly updated, he said.
Then, in 2014, Kathy Thompson, the mother of MSU student Carolyn Thompson, who died in a car crash that year, visited the memorial. Caires recalled that after her visit, she gently told the university that she thought the space could be better, and she made the first gift to help.
Later, in 2016, MSU's student government decided to research and review options to find "the best possible ways to honor the students who have passed away as well as their parents," according to its resolution.
As part of their research, members of student government surveyed dozens of students and found that the majority wanted the student memorial kept in the same location but made more open and visible.
Students surveyed also said they wanted it to be a space where students could come together, rather than a space for individuals to privately grieve. In 2019, ASMSU voted to commit $75,000 to update the student memorial, and in 2020, project organizers participated in MSU Giving Day, a 29-hour online fundraising event, and drew more than 150 donors. MSU's dean of students office, president's office and administration and finance office also contributed. In all, $300,000 was contributed for the student memorial's redesign and renovation.
Cruzado said Wednesday that she was heartened by the students' efforts to renovate the memorial, which she called a lasting student legacy.
"It gives me a great sense of satisfaction that our students feel so passionately about this project," she said. "It means, 'Once a Bobcat, always a Bobcat.'"
Cruzado, Oelkers
Montana State University President Waded Cruzado, left, and ASMSU President Lucas Oelkers cut a ribbon during a ceremony to mark the renovation and reopening of the student memorial north of the Duck Pond on Wednesday, Oct. 5, in Bozeman. (MSU Photo by Colter Peterson)