Posted on
Lelamae Chamberlain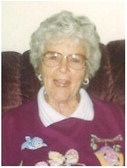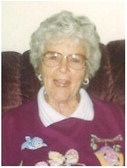 Lelamae Bridges Westland Chamberlain, 101, died Saturday, Aug. 13, 2022, at the Faith Home in Wolf Point.
She was born April 5, 1921, in Maroa, Ill., the daughter of Lillian Mae (Short) and Jerry Lester Bridges.
Jerry was employed building box cars for the railroad so consequently the family traveled where ever the contracts were let such as Illinois, Indiana, Ohio and Iowa.
In the spring of 1930, the family moved to Montana to work for Jerry's older brother, Shirley, who managed a horse ranch owned by Chappel Brothers Corporation. There, Lelamae and her younger brother, Clyde Maxy grew up part of a "family" of cowboys who remained her big brothers for many years.
She graduated from Frazer High School in 1939. She later married Robert Westland and sons Robert Clyde and William Lee Westland were born. In 1947, she married Kenneth Doran "Buzz" Chamberlain and they welcomed Jerry Earl into their lives.
When she wasn't helping out at Clyde's ranch, she held various jobs including Bryan's, The Herald-News and the Roosevelt County Treasurer's Office. She also volunteered at several places including the Senior Center and the thrift shop as well as her church.
She was a very talented gardener, knitter and crocheter. Several years ago, she admired a baby sweater that one of her friends had made and asked for the pattern. When the friend declined to share it, Lelamae bought a sweater from her and was able to copy it. From that pattern, she created many sweaters for family members and friends. She later passed the pattern on to her daughter- in-law who has kept up the tradition.
She was preceded in death by her brother, Clyde; sons, Bobby and Billy; and grandchildren, Michael and Heather.
She is survived by her son, Jerry; six grandchildren; 19 great-grandchildren; and one great-great-grandson.
Memorial services for Lelamae and her grandchildren Heather and Michael were held Oct. 8, at the First Presbyterian Church in Wolf Point. Clayton Stevenson Memorial Chapel was entrusted with arrangements.