Posted on
Lady Wolves Fall Short Against Scobey, Malta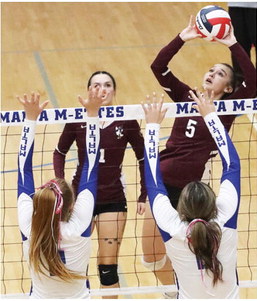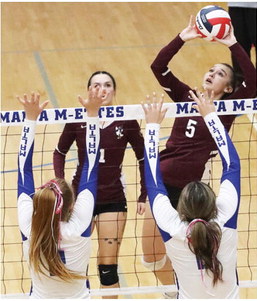 Wolf Point dropped a league volleyball match to conference leader Malta on Saturday, Oct. 8.
Malta won at home by a final of 25-19, 25-13, 25-14.
Leading Wolf Point's attack were Sierra Hamilton and J'Elle Garfield with six kills each.
Kylie Rodenberg finished with 10 assists.
Katelyn MacDonald served two aces. Garfield finished with 14 digs. Joli Beston had three blocks.
The Wolf Point volleyball team dropped a tough five set match in Scobey on Friday, Oct. 7.
Scobey took the victory by a 25-14, 25-20, 23-25, 25-27, 1511, final.
After dropping the first two sets of the non-conference match, the Wolves battled back to score two exciting wins in the next two sets.
J'Elle Garfield led the Wolves with 12 kills. Leading the team with 11 assists each were Kylie Rodenberg and Mahala Moran. Sierra Hamilton serve 10 aces. Rodenberg and Joli Beston had two blocks each. Katelyn MacDonald accounted for 24 digs.
The Wolves will host Scobey on Thursday, Oct. 13, and head to Harlem on Saturday, Oct. 15.
Hamilton
Wolf Point's Sierra Hamilton tips the ball over during the match in Malta. (Photo by Pierre Bibbs, Phillips County News)