Posted on
Lustre Battles Cowgirls In Home Match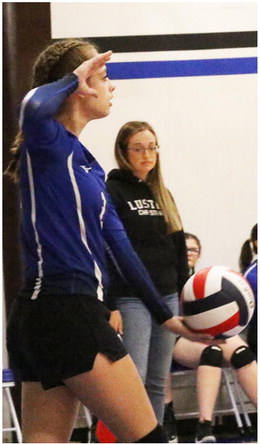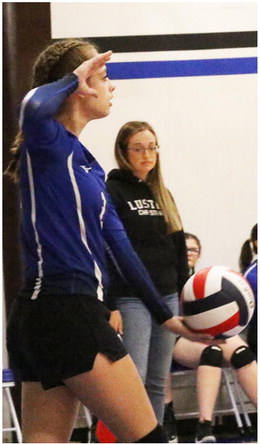 Culbertson's volleyball squad posted a straight set victory, 25-7, 25-15, 25-6, at Lustre Christian on Thursday, Sept. 29.
The Cowgirls accounted for the league match's first 10 points as the serving of Destiny Thompson and net play of Makena Hauge led the attack.
An ace by Perla Burciaga, a kill by Jazzmin Fugere and a kill by Hauge increased the margin to 17-1.
Two kills by Lustre's Alexa Reddig closed the gap to 18-4.
Kills by Hauge and Thompson along with three aces by Hauge increased Culbertson's advantage to 23-4.
After Lustre scored on a tip by Aubrianna Holzrichter, the Cowgirls ended the first set with a kill and ace by Fugere.
The hard serving of Holzrichter led the Lions to an 8-0 lead in the second set. The junior served five aces during the run. After Culbertson fought back to 8-5 on kills by Hauge and an ace by Burciaga, Lustre gained an 11-6 advantage on kills by Grace Brown and Reddig.
The serving of Fugere led Culbertson to a 12-12 deadlock. The Cowgirls moved ahead on two kills by Thompson and a kill by Burciaga.
After a block by Thompson put the margin at 18-13, Culbertson increased the margin to 21-13 on a kill by Fugere and two aces by Leandra Perkins. Another block by Thompson put the gap at 24-13 and Culbertson went on to win the set by a 25-15 final.
In the third set, the Cowgirls gained an early 7-1 advantage. An ace by Thompson put the score at 10-2.
Aces by Fugere and two kills by Thompson increased the gap to 22-4.
Lustre's Reddig scored a kill to close the margin to 24-6 before Culbertson scored the final point.
Fugere finished with seven aces, one dig and one ace.
Thompson scored four blocks, seven kills, five digs and three aces.
Hauge accounted for four aces, two digs, 10 kills and one block.
Burciaga finished with three aces, one assist, one dig and one kill.
Alicyn Ator had 16 assists and one ace. Leandra Perkins had three aces and three digs. Ivy Colvin added a dig.
Lustre bounced back to defeat Frazer in three straight sets on Friday, Sept. 30.
The Lions downed Frazer by a 25-15, 25-15, 25-16, final.

BrownLustre Christian's Grace Brown goes up for a kill during the home match againstCulbertson on Thursday, Sept. 29.(Photo by Bill Vander Weele)