Posted on
Mills Aims To Inspire Students At Speeches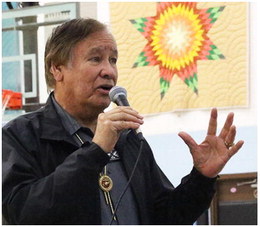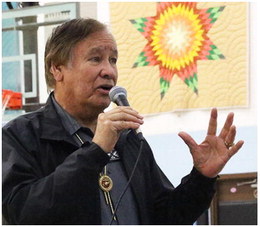 Olympic Gold Medalist Billy Mills provided a positive message to students throughout the region last week. His stops included Frazer, Wolf Point, Poplar, Brockton and Culbertson.
Mills earned his gold medal at the 1964 Summer Olympics was he accounted for one of the biggest upsets in Olympic history in the 10,000 meter run. He finished with an Olympic record time of 28:24.4.
"That moment was very special for me," Mills told area students. "I truly felt I had wings on my feet."
But he stressed that the victory wasn't the greatest element of his athletic career.
"It's the journey, not the destination that empowers us," Mills said.
He explained that it took him 15 years of training to reach the top of his sport.
Mills told students it's daily decisions that make a big difference in lives. He also noted that he and his wife have traveled to 110 different countries. They have seen a great sense of global unity and global diversity. Mills is a spokesman for Christian Relief Services and co-founder of the nonprofit Running Strong for American Indian Youth.
"Many young women throughout the world look at young Native American women for hope and direction," Mills said. He shared some important moments of his path in life. When his mother passed away when he was only 8 years old, his father told him that he has broken wings but he will teach him to fly. His father explained to him that he needs to take the culture, traditions and spiritual lessons learned and extract the virtues and values to empower him. Mills said he was told to find his passion, follow his dream and then develop skills to equal his passion.
"My dad had me believing I could do magic," Mills said.
His father passed away when Mills was 12, but he kept working for his passion and dreams. "When I made All-American, I knew they were watching," he said.
He asked that students, through their teachers, mail him letters to list their dreams.
"We're in this race together," Mills said. "America needs its young American Indians to reach its goals."