Posted on
Lustre Posts Victory Over Wolf Point's JVs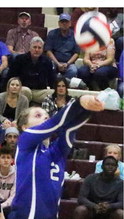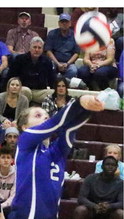 The Lustre Christian High School Lions earned a fourset victory over Wolf Point's JVs during volleyball action in Wolf Point on Tuesday, Sept. 20.
Blocks and kills by Alexa Reddig down the stretch led the Lions to a 25-17 victory in the first set.
Kills by Jaden Gibson helped Lustre gain a 23-15 advantage in the second set, but Wolf Point fought back on kills by Kashlyn Speak Thunder and Keeley Blount-Henderson along with an ace by Lauren Rodenberg to come as close as 24-19. Lustre took the second set by a 25-20 final.
After Wolf Point's JVs bounced back to win the third set, Lustre took the fourth set to earn the match victory.

ReddigLustre's Alexa Reddig spikes during action in Wolf Point.(Photo by Bill Vander Weele)