Posted on
Lady Wolves Fight Off Poplar For Home Victory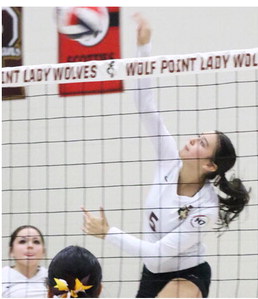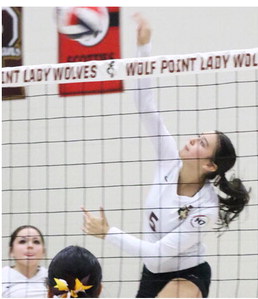 In a three-set battle, Wolf Point edged Poplar, 25-18, 26-24, 25-20, during conference volleyball action in Wolf Point on Thursday, Sept. 15.
The Indians were able to build an 8-6 lead in the first game on three strong serves by Morgen Nordwick. Poplar stayed ahead as a block by Kessee Erickson put the margin at 14-12.
With the score deadlocked at 15-15, Wolf Point grabbed the lead on three aces by Kylie Rodenberg. After a tip by Sierra Hamilton, the serving of J'elle Garfield put the Wolves up 22-16.
An ace by Hamilton increased the margin to 2417. After a block by Poplar's Braelyn Nordwick, the Wolves ended the game on a block by Joli Beston.
The second set was deadlocked at 13-13 until Poplar struck for five straight points. The Wolves stayed close on kills by Beston and Garfield, but an ace by Erickson put the Indians ahead 21-15.
Two aces by Katelyn Mac-Donald and a kill by Hamilton pulled the Wolves to 2118. A kill by Hamilton and an ace by Garfield tied the score at 23-23. After a great save by MacDonald, Garfield scored a back-row kill for a 24-23 advantage.
The Indians tied the game on a kill by M. Nordwick, but the Wolves accounted for the last two points on a block and ace by Hamilton.
The serving of Rodenberg and a kill by Kaleah Miller- Toves led Wolf Point to a 7-1 start in the third set. An ace by Jerzey Azure, a backrow kill by Garfield and kill by Miller-Toves put the margin at 11-4.
Wolf Point increased its lead to 18-13 behind the net play of Garfield and a tip by Azure. Poplar battled back to 21-19 on an ace by Morgan Russell, but a kill by Garfield an ace by Gabrielle Fourbear put the score at 24-19. Wolf Point's final point came on a kill by Beston.

NordwickPoplar's senior Morgen Nordwick makes a nice play at the net.(Photo by Bill Vander Weele)


Miller-TovesWolf Point's Kaleah Miller-Toves spikes the ball against Poplar on Thursday, Sept. 15. (Photo by Bill Vander Weele)