Posted on
Cowboys Capture League Victory In Scobey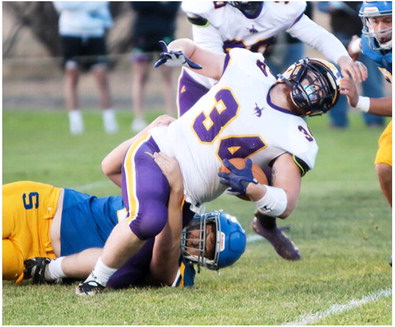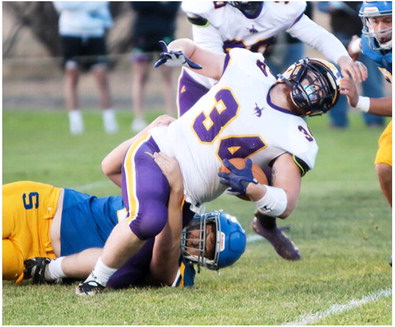 The Culbertson Cowboys ran their way to an impressive 44-14 conference victory in Scobey on Friday, Sept. 16.
The Cowboys, spearheaded by Kobe Nickoloff and Justice Bengochea, rushed for nearly 200 yards to improve their overall record to 3-1 and league mark to 3-0 for this football season.
"It was a battle in the trenches on both sides of the ball," Culbertson Coach Brian Manning said of the victory in Scobey.
After a scoreless first quarter, the Cowboys put together a six-minute scoring drive to open the second period. Nickoloff scored on a running play and also got in for the two-point conversion.
Culbertson's next touchdown came on a run by Bengochea. The Cowboys led by a 16-8 half-time margin.
After quarterback Bridger Salvevold scored in the third quarter, Culbertson gained more breathing room when Payton Perkins intercepted a pass and returned the ball for a touchdown.
Bengochea and Nickoloff added touchdowns in the second half.
Manning was pleased with the defensive performance especially the play of the line. He said seniors Colin Avance, Perkins, Bengochea and Nickoloff were among the standouts. Sophomores Mark Kirkaldie, Salvevold and Reece Moon also played well.
"Payton Perkins was flying all over the place," Manning said.
The Cowboys will host Circle for their homecoming game on Friday, Sept. 23.

AvanceCulbertson's Colin Avance rushes the quarterback.(Photo by Shelby Manning)