Posted on
Cowgirls Earn Victory Over Nashua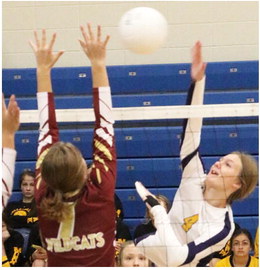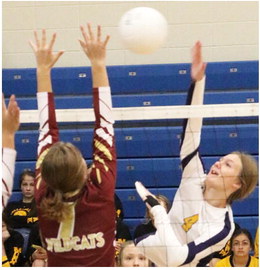 Culbertson's volleyball team rolled to a straight set home victory over Nashua on Thursday, Sept. 8.
The Cowgirls posted a 258, 25-10, 25-14, win over their conference opponent.
Culbertson used the strong serving of Koree Marchwick and net play of Destiny Thompson to jump out to a 7-0 lead in the first set. Kills by Makena Hauge and an ace by Perla Burciaga increased the margin to 11-5. Several aces by Alicyn Ator led the way to an 18-5 advantage.
Ahead by a 19-7 margin, the Cowgirls closed out the first set on a kill by Thompson and aces by Jazzmin Fugere.
Three straight kills by Hauge highlighted play as the Cowgirls grabbed an 11-3 advantage in the second set.
An ace by Burciaga and another kill by Hauge put the margin at 16-3. A block by Hauge put the score at 18-3.
With the score at 22-10, the Cowgirls accounted for the last three points of the second set including one on an ace by Mariana Burciaga.
The net play of Thompson and the serving of Ator led the Cowgirls to a 10-3 lead in the third set.
Hauge, a senior, accounted for a tip and two aces to increase the gap to 14-5. After a kill by Thompson put the margin at 16-5, the hard serving of Hauge led the way to a 22-5 advantage.
Culbertson went on to win the third set by a 25-14 final.
Leaders in kills for the Cowgirls were Hauge with 10 and Thompson with four. Hauge finished with four blocks. Thompson and Fugere also scored blocks.
Culbertson's leaders in aces included Hauge with eight, Ator with seven and Marchwick with three. Leaders in digs were Fugere with nine, Hauge with eight, Thompson with seven, Marchwick with six, Ator with five and Perla Burciaga with four.
Marchwick finished with 16 assists. Ator added an assist.