Posted on
Indian Days Wraps Up In Poplar With Good Turnouts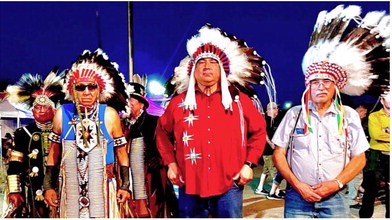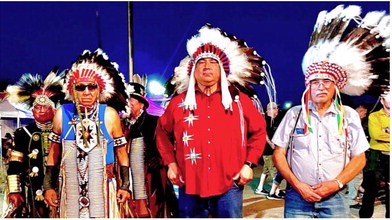 The Poplar Indian Days Labor Day Weekend Celebration wrapped up September 4 in Poplar at American Legion Park in Poplar. Grand entries were held all three days Sept. 2-4. Camping day was Sept. 1.
Attendees said the days were very hot in the sun and it was dusty under the arbor in the evening. Despite the lingering summer heat, crowds were strong and the mood was positive.
Kris FourStar and Chief Judge Stacie FourStar won the tipi races with their mens and womens teams. The FourStar's daughter Miley was the Poplar Indian Days Princess.
"It was a very great celebration," Kris FourStar told the Northern Plains Independent. "Perfect powwow season for Fort Peck. Good to see all the visitors." Culbertson's Mary Machart attended with collection of family, friends and visiting guests from abroad.
"Attending Indian Days this year with my husband - who's never been - guests from Germany and our girls and friends gave us a wider perspective," Machart said. "We enjoyed watching old friends reunite. Seeing some of my students, from those in second grade to those recently graduated warms my heart watching them perform doing something they love."
All the usual dance categories were included, with dance, grass, jingle and traditional for mens, womens, golden age, teens and tiny tots. Head Woman Dancer was Alyssa Youpee. Head Man Dancer was Ole Grey-Bull. Jaidyn Coughlin was the traveling princess. The celebration princess was Miley Crawford.
Spotted Bull Treatment Center sponsored a candlelight ceremony Friday at dusk and fun run/walk Sunday morning. HPDP hosted a run on Saturday morning.
Officers included Advisor Maureen Red Eagle Dionne, flag bearer Wayne C. Two Bulls and secretary/treasures Greg and Mary Plante and Connie Thompson and Nancy Samuelson.

Head WomanHead Woman Dancer Alyssa Youpee at the Poplar Indian Days Labor Day Weekend Celebration in Poplar on Sept. 3.(Submitted)


Frybread CrumbsTipi race winners Kris and Sons and women's category winners Frybread Crumbs won the Indian Days tipi races in Poplar this weekend. Pictured (leftto right): Promise Crawford, Jessica Archambault, Chief Judge Stacie FourStar, Kris FourStar, Jerome FourStar and DanWerk.(Submitted)