Posted on
Elks Lodge Presents Donation To Tribes' Veterans Affairs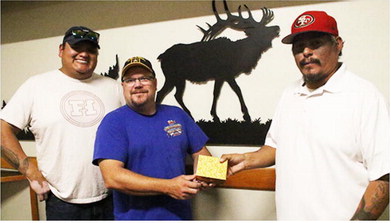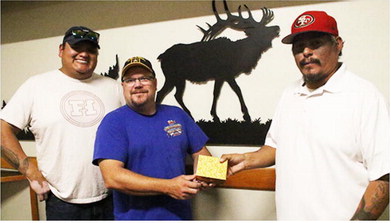 The Wolf Point Elks Lodge continued its commitment to helping the community by donating $1,000 for area veterans last week. Ryan Beston, director of Fort Peck Tribes' Veterans Affairs, accepted the donation.
The $1,000 was given in the form of gas gift cards.
Ryan Beston, director of the Fort Peck Tribes' veterans affairs, said a claims clinic will be held on Wednesday, Sept. 7. Gas gift cards will be used as prizes for the veterans.
The Elks' Freedom Grants are used to serve veterans and/or military members along with their families. Projects must serve a population in need. Freedom Grant projects must focus on one of these five areas: employment, homelessness and housing, military families, health and education support.