Posted on
Culbertson Scores 62-12 Victory Over Poplar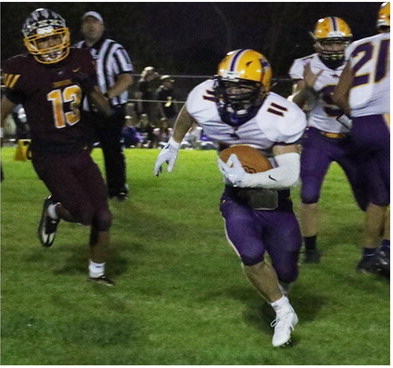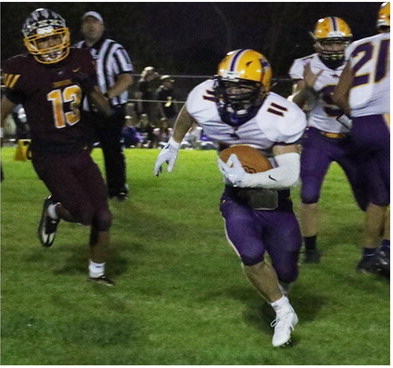 The Culbertson Cowboys exploded for 26 points in the opening quarter and defeated Poplar, 62-12, in eight-man football play on Friday, Sept. 2.
The visiting Cowboys stopped Poplar on its first offensive possession on strong defensive plays by Hugh Donaldson, Justice Bengochea and Carson Solem.
On Culbertson's first offensive play, Bengochea broke loose for a 35-yard run to the Poplar 35. After Poplar's Zane Dupree made a solid tackle on first down, quarterback Bridger Salvevold connected with Reese Moon for a 34-yard touchdown pass. Salvevold ran in the twopoint conversion at the 8:43 mark.
The Cowboys were back in scoring position when a sack by Colin Avance and a tackle of the punter by Moon turned the ball over at the Poplar 11. On second down, Kobe Nickoloff scored from the three for a 14-0 advantage.
Culbertson's defense then scored when Payton Perkins intercepted a pass and returned the ball 44 yards for a touchdown. Salvevold passed to Moon for the conversion to put the margin at 22-0 with 5:34 left in the first period.
A sack by Poplar's Walker Burshia put Culbertson in a second-and-21 situation. The Cowboys, however, reached the end zone on a 61-yard pass play from Salvevold to Moon. Bengochea smashed in for the conversion for a 30-0 margin.
The Cowboys' next score came on a nine-yard dash by Nickoloff with 2:39 left in the quarter. Salvevold passed to Mark Kiraldie for the conversion and a 38-0 lead.
The Indians got on the scoreboard when Gage Berg took the ensuing kickoff and went 69 yards for a touchdown. Culbertson's Moon responded by returning a kickoff 56 yards for a touchdown. Salvevold ran in the conversion.
The first points of the second quarter came on a safety when a snap went over the head of Poplar's punter and out of the end zone.
A 24-yard run by Solem put Culbertson back into the end zone. Salvevold battled in for the conversion to put the half-time margin at 56-6.
The Cowboys added a touchdown in the third down on a 32-yard dash by Solem for a 62-6 advantage.
Poplar accounted for the game's final touchdown when quarterback Kameron Reum ran in from nine yards out with 7:27 remaining.
Offensive leaders for Culbertson included Solem with 63 and Nickoloff with 50 rushing yards. Salvevold and Moon connected on pass plays for a total of 95 yards.
Reum passed for 83 yards to lead the Indians.
Culbertson will host Ekalaka on Saturday, Sept. 10.
Poplar travels to Plentywood on Saturday, Sept. 10.

PerkinsPayton Perkins returns an interception for a touhdown.(Photo by Bill Vander Weele)