Posted on
Contest Determines New Logo For Bulldogs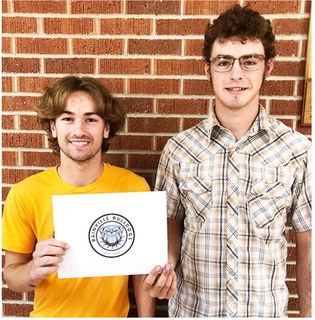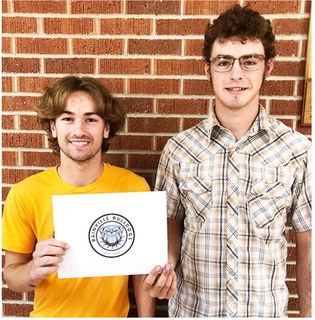 Bainville Schools got off to a fresh start this school year with a new logo contest that highlighted their students' creativity.
Submitting the winning entry were senior Roger Butikofer and junior Carter Winn.
The students explain they were encouraged to enter the contest by one of their teachers and then worked on the project at home.
Entries were cut down to five finalists by a committee consisting of the superintendent, principal, activities director, BPA advisor and FFA advisor.
"We were very pleased," Tanya Wilson, activities director, said. "We saw a variety of entries."
From those five finalists, the entire community was encouraged to vote for their favorite by "liking" their selection on Facebook.
"I was surprised that we won," Winn said.
Butikofer added, "It's pretty cool that they picked ours."
The logo features the year 1922, since Bainville celebrated the centennial anniversary of its first graduation class this past summer.
Wilson said the new logo will be showcased on the school's game programs, publications and Facebook page.
"We're working on ways to increase our positive social presence," Wilson said.
She added that both Bainville's BPA and FFA programs have done excellent jobs with advertising and marketing projects and the new logo could be utilized in those productions.

JMG, RFCUCulbertson Jobs For Montana Graduates Students visited Richland Federal Credit Union Aug. 25 to learn about consumer loans from RFCU manager Laurie Pearson (right). (Photo by Shelby Manning)