Posted on
Knudsens Defy Ruling, Access To Legion Park Blocked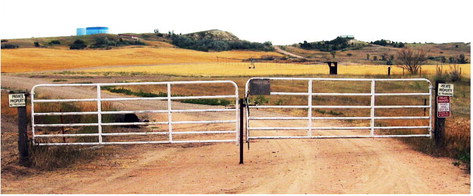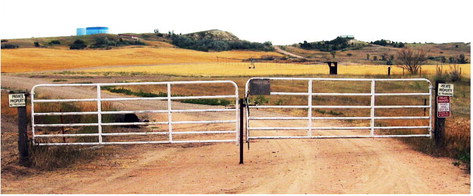 Miles and Rhonda Knudsen have apparently flouted a July 26 ruling from the Montana Supreme Court granting access to American Legion Park in Culbertson.
According to a press release from American Legion Thomas Mann Post No. 81, several vehicles have been parked in the roadway and several gates and been closed, seeming to block access to all but the most determined visitors.
"It appears that the Knudsens are thumbing their noses at not only the District Court but the Montana Supreme Court as well," said the statement from the Legion.
Following a protracted legal struggle between the Knudsens, the Legion and the Town of Culbertson, the July 26 ruling found, "The access road has and shall continue to provide access to the Legion Park Parcel to Legion, its invitees and the public."
The Supreme Court opinion affirms a District Court decision of Sept. 7, 2021, pertaining to open access at the park.
Photos submitted to the Community
News by Legion members Aug. 26 show gates and vehicles placed in the roadway and/or gates closed.
"The matter was been referred to the Roosevelt County Sheriff's Office, the county attorney and the county commissioners for resolution," said the Legion.
"It is a sad commentary that our elected officials, local, county and state, including the State Representative, have been silent on this, as this has been going on for almost a year.
Rhonda Knudsen is a member of the Montana State Legislature representing House District 34. Miles and Rhonda Knudsen are the parents of current Montana Attorney General Austin Knudsen.
Access to the park has been further obstructed, says the legion, for over a month.
"Access to the park has been hindered by four gates. The first is a set of panel gates at the terminus of Road 1020. The second and third gates are four-strand barbed wire. The fourth gate is also barbed wire and is adjacent to the entrance of the park. Recently, the road has been blocked by a dozer, a truck and a water tank," the Legion said.
Legion member Pete Olson said plans are continuing to clean up and make use of the park, despite the continued opposition from the Knudsens.
"Members of the Legion are working diligently to make this a local attraction which can be enjoyed by all."
Olson said the Legion has been approached by Culbertson Schools about using the park for educational events and interested members of the community who are interested in proposed nature trails have also reached out.
"Clint Jacobs and his team have developed a conceptional design for 10 acres within the park which incorporates a parking area, camping area, perimeter fire break and over a mile of hiking/nature tails. The remaining 25 acres will, for the time being, be reserved for wildlife habitat and the trails."
For more information about ongoing plans for Legion Park and/ or access questions, call 406-489-3063.

BlockedA photo submitted Aug, 26 shows obstacles in the roadway blocking access to Legion Park in Culbertson.(Photo by Clint Jacobs)