Posted on
Poplar Hopes To Contend In District 2B Volleyball League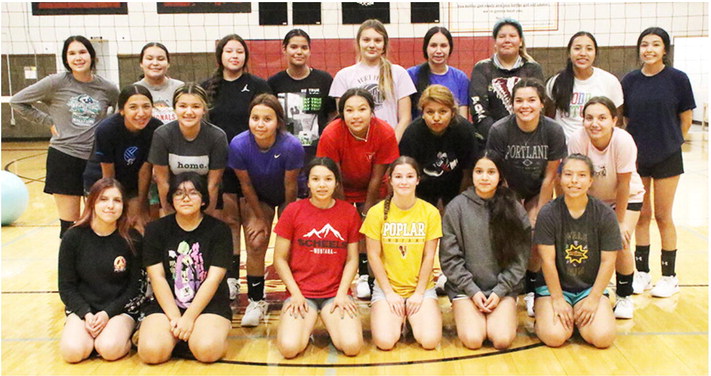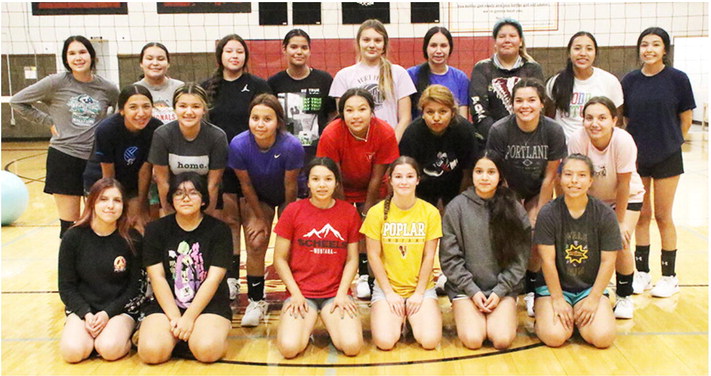 Poplar's volleyball squad enters the season with optimism under a new coaching staff and with a good turnout. Maureen Nordwick is the new head coach for the Indians. Assistant coaches are Shannon Martell and Dusti Marottek.
Poplar's turnout features 24 girls including five eighth-grade students.
Returning starters include senior Morgen Nordwick, junior Emma Rae Martell and junior Kessee Erickson.
"Morgen and Kessee are going to be super tough and strong at the net," Coach Martell said.
Emma Rae Martell, meanwhile, is a solid setter and gives the team a lot of energy.
Other players with a good deal of varsity experience include Rebecca Gorder, Angelina Escarcega, Kaylor Strauser and Kelcie Strauser.
A pair of freshmen who are anticipated to help the program are Cammie Martell and 5-9 Braelyn Nordwick.
"We just have to sharpen up a few things," Coach Martell said.
The girls have been working hard this off season, attending open gyms three times a week since June.
"This is the biggest turnout in a few years," coach Martell said. "We're pretty excited."
The Indians open their season in Rocky Boy on Friday, Aug. 26.
Poplar's first home match is against Scobey on Friday, Sept. 2. The Indians will host conference rival Malta on Tuesday, Sept. 6.
Poplar Volleyball
Aug. 26: at Rocky Boy Aug. 27: at Native American Classic (Rocky Boy) Sept. 2: Scobey Sept. 6: Malta Sept. 10: at Scobey Invitational Sept. 15: at Wolf Point Sept. 17: Glasgow Sept. 24: Rocky Boy Sept. 30: Wolf Point Oct. 1: at Harlem Oct. 6: Brockton (homecoming) Oct. 13: at Glasgow Oct. 15: at Malta Oct. 22: Harlem Oct. 28-29: District tourney (Poplar) Nov. 3-5: Divisional (Choteau) Nov. 10-12: State (Bozeman)

GorderPoplar's Rebecca Gorder controls the ball during practice last week. (Photo by Bill Vander Weele)