Posted on
Joel Ferguson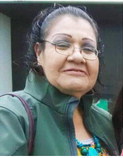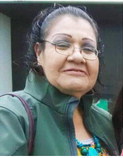 Joel Rae Ferguson, Tasunka Hin Hota Win (Roan Grey Horse Woman), 55, of Poplar died Aug. 15, 2022, at the Poplar Hospital.
She was born at Fort Hood, La., on March 15, 1967, to Joseph and Arlene Ferguson. She grew up in Poplar and was a graduate of Poplar High School. She graduated from University of Mary Bismarck and Fort Peck Community College. She held many jobs including Fort Peck Housing, Fort Peck Tribes payroll, Tribal Express, Tande's and A& S. She also moved to Billings and worked for the Census Bureau, Salvation Army, Transbas and many more that she enjoyed. She also helped open the cold weather shelter this past winter and was happy that she could help her people.
She loved spending time with her grandchildren. She spent her last months with her son. She spent her time beading and making dancing outfits for her granddaughters. She loved to bead and sew and always gave things she got done away, hardly ever keeping or making anything for herself. She was always generous and willing to help wherever she could.
She loved her Dakota ways and was always ready to go to sweat and was a big supporter of the Three Buffalo Sundance and all her nephews. She was proud to come from the Bad Temper Bear family.
She met John House of Crow and enjoyed working with the cattle, going to hand game tournaments and supporting him and the Black Lodge Tigers and her adopted family she gained in Crow. She is survived by her children, Leigh Spotted Bird "Skuya" of Brockton and Grant Ferguson "Sonny" of Poplar; adopted children, Jeffery Flynn, Ashley Weston, Brennon Hajek, Ralph Renz, Robert Ferguson and Miccah Dust; numerous grandchildren; siblings, JD Ferguson of Fargo, N.D., Colleen Ferguson of Poplar, Denise, BJ, Gary, Mike and Felix Kidder, Vermae Smith, Tommy Smith, Duane Smith, Sandra Ownspipe, Stephanie Cloud, Dana Mireau, Amos Cloud Jr, Joseph Cloud, Nina Fetty, Monica Melbourne, Michelle Melbourne, Lorraine Hopkins, Ninette Hamilton, Thomasine Hamilton, Anthony Hamilton, Kelly Ann Grey Bear, Cerise Grey Bear, Mike Olson, Judith Grey Bear, and Jordan Grey Bear, Peggy, JD, Bernice and Cedric Good House Jr.
She was preceded in death by her sisters, Lydia Ferguson and Loretta Kidder.
Funeral services were held Wednesday, Aug. 24, at 11 a.m. at the Poplar Cultural Center. Interment was at Poplar City Cemetery. Clayton Stevenson Memorial Chapel has been entrusted with arrangements.