Posted on
Froid/Lake Girls Return Five Starters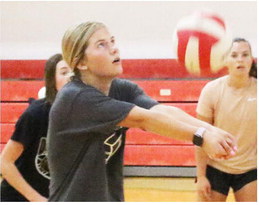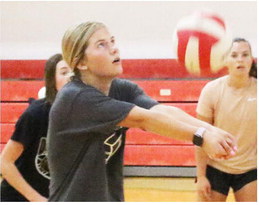 With five starters returning from last season's team, the Froid/Lake Red Hawks are hoping for a return trip to the Class C state volleyball tournament this year.
Seniors on the squad are Carolyne Christoffersen, Dasani Nesbit, Baylee Davidson, Aleah Johnson and McKaylee Elvsaas. Nesbit and Christoffersen were each All-State selections last year. Davidson and Johnson each earned second team All-Conference honors.
Jaeleigh Davidson, a junior, and Mara Salvevold, a sophomore, saw a great amount of varsity playing time last season.
"We lost one starter," Coach Kiah Smith said. "We have a lot of experience coming back."
Smith feels hitting will be one of the team's strengths this year. The squad still needs work on the defensive side.
One change is that B. Davidson will handle all the setting duties this year, but she needed to do that for some matches last season as well.
The experience of playing at last year's state tournament should be a benefit.
"It made the girls hungry," Smith said. "It gives them something to strive for again."
The team's 19-player roster includes three freshmen and four eighth-grade students.
"We're pretty excited to have the eighth-graders be an addition," Smith said. "Losing five seniors next year, we will have a lot of shoes to fill.' The Red Hawks will open their season at the Culbertson Invitational on Saturday, Aug. 27.