Posted on
Cheerleaders Selected For Parade In Hawaii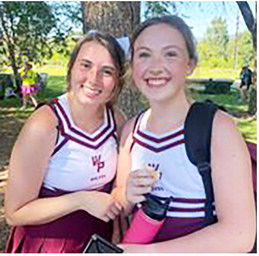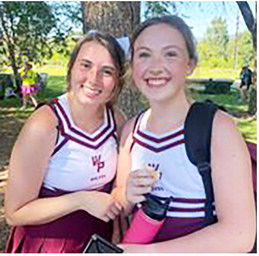 Wolf Point High School Cheer is proud to announce that its cheerleading members Julianna Garfield and Rebekah Landsrud will represent Varsity Spirit in the Pearl Harbor Memorial Parade in Honolulu, Hawaii, from Dec. 4-9.
Varsity Spirit is the global leader in cheerleading, dance team and band apparel, camps and competitions and a division of Varsity Brands, the market leader in team sports, school spirit and achievement recognition.
Cheerleaders and dancers who are invited to perform in the Pearl Harbor Memorial Parade are part of a select group of All-Americans identified at Varsity Spirit summer camps across the country.
All-Americans are based on superior cheerleading or dance skills as well as leadership skills at camps operated by Universal Cheerleaders Association, Universal Dance Association, National Cheerleaders Association, National Dance Alliance, United Spirit Association or Urban Cheerleading Experience.
Wolf Point Cheer attended UCA Camp at Missoula on July 19-22 where they were selected as All-Americans. Only the top 12 percent of the cheerleaders and dancers from Varsity Spirit camps earned the chance to participate in a performance of this caliber.
"We are thrilled that these excellent athletes will have the chance to perform and experience our special events in Honolulu," said Bill Seely, president of Varsity Spirit. "We are honored to provide them a one-of-a-kind opportunity, where they will meet and connect with cheerleaders and dancers from across the country, as well as be a part of a meaningful parade experience that represents our nation's history."
Garfield and Landsrud will perform with Varsity Spirit All-Americans in an exclusive performance prior to the opening ceremony of the parade, and then be a part of the parade before thousands of fans lining the streets of Waikiki Beach. This trip marks the 81st anniversary of the attack on Pearl Harbor. The parade theme is "remembering the past and celebrating our future."
Besides being able to perform for true national heroes, athletes will have the opportunity to meet cheerleaders and dancers from across that nation and enjoy a memorable trip to the Pearl Harbor Memorial and the USS Missouri Battleship. The Varsity Spirit All-American program is celebrating more than 30 years of honoring camp standouts.