Posted on
Blister Fire Closes Highway 13 North Of Wolf Point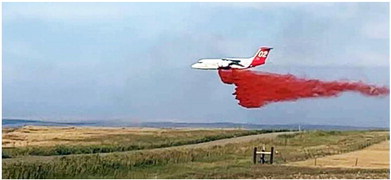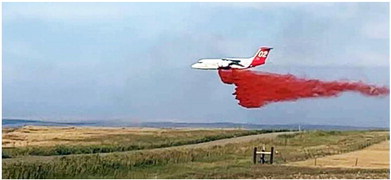 The Blister Fire north of Wolf Point claimed 3,552 acres over several days beginning Monday, Aug, 15, when the Wolf Point Volunteer Fire Department was dispatched to put out a grass fire likely started by a swather.
Roosevelt County Fire Warden Mike Olson told the Northern Plains Independent that high winds on Wednesday, Aug. 17, caused a rekindle of the original fire approximately 20 miles north of U.S. Highway 2 on Montana Highway 13 between Wolf Point and Scobey.
Olson said crews from around the region battled hard to keep the blaze in check. By evening, Montana Highway 13 was closed to traffic near milepost 25.
"Crews worked hard to keep the fire from crossing the highway," Olson said. "It did cross, but we managed to keep the fire to the west side of the highway for the most part."
By Thursday, Aug. 18, at 9:47 p.m., the Roosevelt County Sheriff's Office reported via social media that the highway was open to traffic, though fire crews were still in the area.
Brookman Rodeo released a social media post Thursday reporting that a herd of horses was saved when local ranchers cut fences to free them from the fire.
"Our pride and joy. Knowing we about lost all of them to a fire, in conjunction with 30 mph winds, is a tough thought still," said the post. "They are safe and sound now thanks to people cutting the fence to get them out, gathering them and trucking them out in the middle of the night."
Air resources were deployed, including a Type 1 helicopter and a heavy air tanker deployed by Montana Department of Natural Resources and Conservation. Olson said BIA, DNRC, Roosevelt County blades and fire departments from Daniels, Roosevelt and Valley counties contributed to the fight.
"It was a good effort from everyone," Olson said.
Olson stressed that fire danger is continuing to increase with hot, dry weather. He said area residents should be vigilant. At press time, a countywide burn ban was in place through Aug. 27.

Blister FireThe Blister Fire north of Wolf Point closed traffic on Montana Highway 13Aug. 17.(Submitted)