Posted on
Wendy Chopper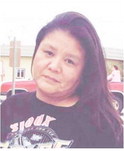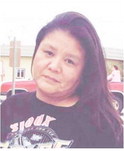 Wendy Lisa Chopper, 49, of Poplar died July 30, 2022, in Billings.
She was born on July 2, 1973, in Devils Lake, N.D., to Abraham Chopper Sr. and Lorene (Good Soldier) Michel. She attended school in Sheyenne, N.D., until her freshman year and then went to Clearfield Job Corps in Clearfield, Utah. She was in culinary arts.
After leaving Job Corps, she worked at many different places throughout her life. She worked at Dakota Tribal Industries; Spirit Lake Casino in Ft. Totten, N.D.; MIT Telemarketing; Dakota Sportwear; Noodles by Leonardo; Taco John's and McDonald's in Devils Lake, N.D.; Subway and Taco John's in Jamestown, N.D.; McDonald's in Aurora, Colo.; Bear Lodge Assisted Living and Cenex in Billings, Mont.; Bryan's in Wolf Point; and as a CNA at the Poplar Hospital and at Tribal Express in Poplar.
She was a kind soul who loved her family and friends to the fullest. She would try to help anyone out in need if she could.
She is survived by her mother, Lorene Michel of Poplar; children, Colby Chopper of Sioux Falls, S.D., Benjamin Chopper and Royce LaVallie of Fargo, N.D., and Payton Knoth of Flaxville; siblings, Abraham Chopper Jr., Jolene Chopper-Jones of Poplar, Joseph Dunn of Jamestown, N.D., Louis Dunn of Fargo, N.D., Tiffany Chopper of Billings and Nicolle Bighorn of Brockton; and seven grandchildren.
She was preceded in death by her stepfather, Douglas Michel; and sister, Althea Deserly.
Funeral services were held on Tuesday, Aug. 9, at the Poplar Cultural Center. Interment followed at Fort Kipp Cemetery. Clayton Stevenson Memorial Chapel was entrusted with arrangements.