Posted on
Esther Stuehm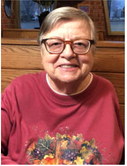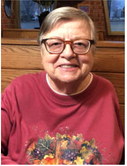 Esther Carolyn (Frederick) Stuehm, 77, died Aug. 4, 2022, in Poplar.
She was born on Sept. 15, 1944, in Wolf Point to Hattie (Hinman) and Lewis Frederick. She graduated from Poplar High School in 1964. She continued her education with a year at Northwest Nazarene College and finished at a business school in Billings, where she met her husband, George Stuehm, while volunteering at the local mission. Out of this union came their only child, Kenda Kay Stuehm.
She retired from the Poplar School District in 2020 after 25 years of service. She loved being a paraprofessional to all the children she helped. She also worked at the After School Program helping tutor students. Before this, she worked as the main receptionist and later the training secretary at A& S Tribal Industries for over 20 years.
She enjoyed reading, leading/ going to Bible studies, singing and potlucks. She was an avid member of both the community and Dakota choirs. She also was a Girl Scout leader for many years. She was the fill-in pastor for the local Nazarene Church when they needed it.
She liked to laugh and have fun, hence her nickname for many years as The One-Armed Bandit. Most people know that she could do more with her one arm than a lot of people with two.
She is survived by her daughter, Kenda Stuehm; and sisters, Mary Frederick and Sarah Thompson.
She was preceded in death by her brothers, John, Leroy, Joseph, Pete, David, Mark, Samuel and Abraham Frederick; and sisters, Ruth Frederick and Martha Bridges.
The family will hold a celebration of life at 10 a.m. on Friday, Aug. 12, at the Assembly of God Church in Poplar. Clayton Stevenson Memorial Chapel was entrusted with arrangements.