Posted on
Harry's Stays In The Family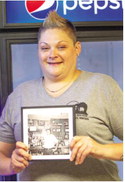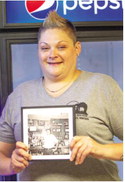 In November 2021, Renee Babcock purchased Harry's Nite Club from her mother, Karen Babcock, and uncle Dickie Peters. It comes as no surprise that she decided to do it, as the bar has been in her family since the 1930s.
"It's always been a family bar," she explained, "and everyone who works here is family, too."
Renee's grandfather, Harry Steffy, was the first family member to purchase the bar and restaurant. He is the reason the establishment has its name. After Steffy's death, his widow, Helen, took over ownership.
Eventually Earl Babcock, Renee's father, took a turn running the place with his sister, Phyllis Peters, until he died in 1989. Phyllis kept the bar going until her death in September 2012. When Karen and Dickie took over, she managed Harry's for 10 years.
For Renee, the purchase of Harry's required some costly changes. No longer grandfathered in, she was forced to bring the original kitchen up to current health and fire codes. This meant making major upgrades. Rather than working with the relatively small area the kitchen was in, she decided to expand the building and build a new kitchen.
The new 315 square foot kitchen located on the back of the building will house all new appliances including a walk-in freezer, a much better ventilation system, and a larger grill and fryer. A new pointof- sale system allows Renee to better track sales, costs and trends.
"I've wanted a new kitchen for 10 years," she stated. "We pushed a lot of food out of this old kitchen and we're faster than McDonald's," she joked.
Renee is excited about the changes.
"You will not smell like Harry's when you leave here anymore," she promised.
In addition to the kitchen, she is working on the menu which will feature some new, deliciously different items.
Increased food costs are among the things she worries about as she looks to the future.
"We have to make money," she stated.
In addition to rising costs, it is often difficult to get everything ordered as warehouses are constantly struggling to keep everything in stock.
Harry's is always full of friendly faces.
"I love my customers. I have made many new friendships as a result," she said. "I wouldn't make it without the friends who support me."
As for why Harry's has remained so popular for so many years Renee explained, "It's just a great bar in a great location. It's a great family place and kids love coming here."
While the kitchen is currently closed for remodeling, Harry's is still serving icecold drinks and a few meals including pizza and Chuckwagon burgers. Renee hopes to begin serving the full menu again in the very near future.