Posted on
VISTA Keeping Active In Roosevelt County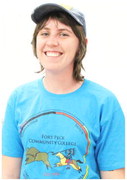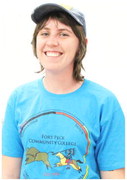 Meghan Edwards is serving as an AmeriCorps VISTA with Fort Peck Community College's agriculture Extension in Poplar. She started working in the area in May and will stay for a year.
"I like it. The people have been very welcoming," Edwards said. "I'm trying to do as much as I can."
She is a native of Columbus, Ohio.
Her main focus is organizing a Harvest Day Festival to be held in Poplar on Sept. 23.
Edwards explains the day will include a pop-up farmers market, a large meal and watching the film, "Gather."
She said the meal will feature traditional foods from the area.
Edwards plans for most of the food to come from gardens and local sources.
She has also been involved with the cooking demonstrations held weekly for young students in Wolf Point.
She is a VISTA through the American Indian Higher Education Consortium.