Posted on
New Auto Parts Store Opens In Culbertson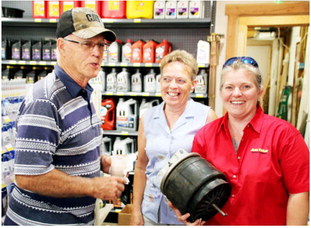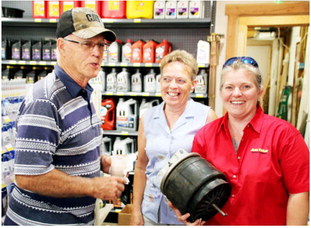 A ribbon cutting and grand opening was hosted at Culbertson's new auto parts store, Auto Value Parts, located inside Hi-Line Service & Hydraulics' location at 603 6th St East on the north side of US Highway 2. Hi-Line Service is owned and operated by Cassandra and Eric Bergum.
Representatives from Auto Value Parts were on hand to help serve hot dogs and root beer floats. Over 130 people attended the event. Mat Berwick won a $100 gift certificate. Other winners of door prizes included Elaine Bawden, Perla Burciaga, Bev Raaum, Esther Peterson, Richard Petersen, Juanita Olson, Mike Christofferson, Chantz Buxbaum, Colby McGinnis, Allen Waldow, Jory Raaum, Karen Synan, Angie Iverson and Arne Iverson.
The new inventory offered at the full service parts store and shop is a welcome addition to the community. Local competitor NAPA closed its Culbertson location in recent months without much notice or explanation. Cassandra Bergum told the Community News that the NAPA closure came as a complete surprise. "We've been working on this for 14 months," she said. She described the more than yearlong process of selecting and signing on with an auto parts supplier. She said Auto Value Parts has a strong regional presence, with considerable area support and a steady supply of inventory.
Auto Value is part of Automotive Parts Headquarters Inc., a family- owned aftermarket auto parts distributor and store group based in St. Cloud, Minn. APH was established in 1920 as National Bushing & Parts Company and today supports a network of almost 300 Auto Value locations in nine states.
The parts store and service shop hours are 8 a.m. to 5 p.m. on weekdays. Call 406-787-6182 for more information or visit them online at hi-lineservices.com.