Posted on
Area Students Learning About Eating Their Garden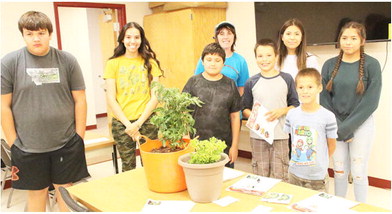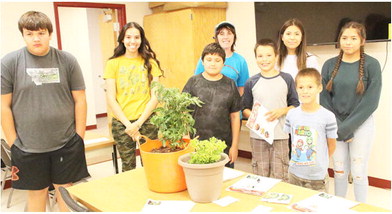 By Bill Vander Weele
The Eating Your Garden summer series has been teaching area students about vegetables and other plants throughout the summer. The program is being presented by Chante' and Ag Extension at Fort Peck Community College.
The cooking demonstration last week covered growing tomatoes and how to make salsa.
"The goal is teaching kids about growing gardens and food sovereignty," instructor Roxann Smith said.
Jessica Pipe, who holds a bachelors degree in public health, spoke to the students about making healthy food decisions and taught about nutrition.
Pipe said she shared a brief lesson about ingredients being used "and the importance of portions."
Meghan Edwards, Ameri-Corps VISTA, has also been instructing the students about locally grown products.
"They got to go home with tomato and basil seeds and with some knowledge about how to care for plants," Edwards said. The week before, the group took a nature walk and discovered some items including turnips, sage and plants, Next week, student will make cowboy caviar with bell peppers and beans. The topic on the following week will be healthy alternatives to pop.