Posted on
Women Golfers Place In Tourney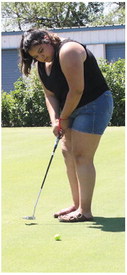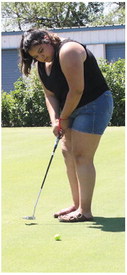 A total of 15 teams braved the hot weather to compete in the AGC women's two-person scramble at the Wolf Point Airport Golf Club on Saturday, July 16.
The team of Mary Blackdog and Tammi Bidegaray finished with the low net score at 52.96.
Placing second with a net score of 55.64 were Gina Aasheim and Brooke Johns.
Tressa Welch and Courtney Sinclair placed third with a net score of 56.44.
Lafon Copenhaver and Marj Markle topped the field with a low gross score of 73.
Two teams tied for second with low gross scores of 80. The teams were Janet Goodbear and Kadence Grandcamp along with Chandra Young and Lyndsey Young.
Tournament officials thank Janet Goodbear for her donation of $2,000 to the tournament.

CopenhaverLafon Copenhaver putts during the women's tournament at the Wolf Point Airport Golf Club.(Photo by Bill Vander Weele)