Posted on
Gladys Fast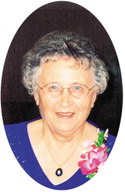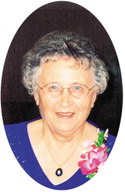 Gladys May Fast was born April 28, 1932, in Volt, Mont., to George and Lydia Schultes Funk. She passed away peacefully into the loving arms of her Lord and Savior on June 30, 2022, at the age of 90. Gladys grew up on the family's farm during the depression years. She accepted the Lord at a young age during an evangelistic meeting.
Gladys attended grades one through eight in the oneroom Volt School. Her love of fabrics and sewing blossomed while working in the fabric department in JCPenney in Wolf Point, after she graduated from Wolf Point High School in 1950.
Harvey and Gladys met at a church event, and married Oct. 28, 1951. They lived on the family farm in the Lustre community until retiring and moving to Glasgow in 2009. They were blessed with 70 years of marriage, four children, 10 grandchildren and 27 great-grandchildren.
Along with raising her family, her farm life included milking cows, tending chickens, sewing the family's clothes, cooking for hired help and growing a large garden. Many of the community ladies can trace their raspberry bushes to Gladys' patch. After her children left home, she was able to devote more time to her favorite hobbies of knitting, crocheting and, most of all, quilting. For their high school graduation, each grandchild received a beautiful hand-quilted quilt. She loved nothing more than teaching others to quilt.
Her kind and generous spirit were evident in her love of entertaining, mentoring the younger women and teaching Sunday school. She lived her faith and shared her love of Jesus from the time she was a child, through her years in Prairie Ridge and Valley View Home.
Gladys is reunited with her parents, George and Lydia Funk; infant sister, Freida Funk; brother, Larry Funk; son-in-law, Duane Nasner; great-grandson, Blake Reddig; and great-granddaughters, Magdalena, Delilah, Eden and Alice Unger.
Those who will miss Gladys are her husband, Harvey; her children, Shirley Nasner of Wolf Point, Mont., Jean