Posted on
Elsie Hanson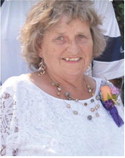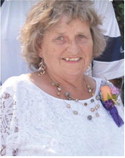 Elsie Olive Hanson, age 82, died Tuesday, July 6, 2022, at her home.
She was born on Dec. 29, 1939, in Wolf Point, the daughter of Glenn and Arline King. She grew up and attended schools in Wolf Point, graduating in 1958 from Wolf Point High School.
On Nov. 19, 1961, she married Robert Hanson in Wolf Point. They had a blessed and loving marriage.
Elsie ran a daycare in their home for years, where she loved, cared for and was loved by hundreds of children. She made sure every kid had a birthday party and a cake.
After she closed the daycare (i.e., her boys grew up), Elsie started a career and retired from Job Service of Montana in Wolf Point.
Elsie was known for her crafting skills, making legendary mints and decorating amazing cakes. She had compassion for every soul and generosity for everyone.
She helped charter the Optimist Club of Wolf Point and Glasgow. She was very active with every event they sponsored. Angel Tree and flowers on Main Street were her personal favorite projects.
Elsie was a member of the Good Shepherd Lutheran Church where she planned and participated in almost every event.
Elsie was preceded in death by her mom, Arline; dad, Glenn; and husband, Robert