Posted on
Whitmus Contestant In Miss Last Chance Stampede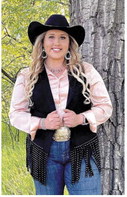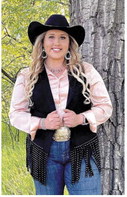 Tiara Whitmus is a contestant for Miss Last Chance Stampede 2023 at the Lewis and Clark Fairgrounds in Helena July 27-30.
Whitmus is the 19-year-old daughter of Donna and Jeff Whitmus of Wolf Point and sister to Trinity and Quinn Whitmus.
Whitmus graduated from Lustre Christian High School as the salutatorian of her graduating class in 2021. She acquired an associate of science degree in biology from Fort Peck Community College in 2022. She will be using a wrestling scholarship to pursue a bachelor's degree in business administration this fall at the University of Providence in Great Falls. Whitmus is also planning to pursue a degree in animal science and equine management, as well, to further her knowledge in livestock and horses.
Whitmus is very active in 4-H, FFA and enjoys showing livestock. Her hobbies include hunting, fishing, playing sports, working out, riding her horse, helping younger kids and spending time with her family and friends. She is very interested in rodeo culture and shares her knowledge with other young ladies.
Whitmus told festival organizers that she would love to hold the title of Miss Last Chance Stampede to be an advocate for the sport of rodeo and to be able to represent the heritage and legacy of the title.
She is sponsored by Ag Partners of Circle.
2021's Last Chance Stampede and Fair had record- breaking attendance with sold-out Friday and Saturday night PRCA rodeo performances. For more information, call 406-457-8516 for more information or visit lccfairgrounds.com.