Posted on
Extension Pesticide Education Program Recognizes Trainers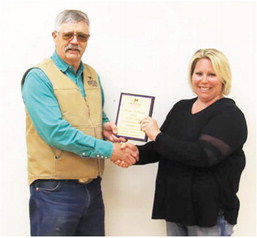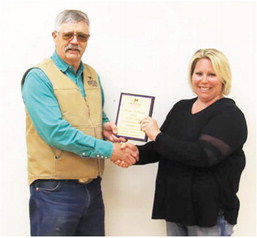 Pool MSU News Service
The Montana State University Extension Pesticide Education Program, or PEP, has recognized two individuals for exceptional efforts benefiting farm pesticide applicators across the state.
The program presented the 2022 Lifetime Achievement Award to Ken Nelson, McCone County Extension agricultural and 4-H agent, and the 2022 Early Achievement Award to Inga Hawbaker, Daniels County Extension agricultural and 4-H agent.
The Early Achievement Award is given to an individual demonstrating exceptional efforts and impacts in pesticide education over their first five years with MSU Extension. Hawbaker grew up in Miles City and graduated with an agricultural studies degree from Dickenson State University and is pursuing a master's degree from MSU studying baby's breath, a weed. She was hired as the Daniels County agent in 2018. Since her hire, Hawbaker has delivered a wide array of pesticide education and pest management presentations at annual recertification programs and has coordinated and assisted with many regional initial private applicator trainings.
Hawbaker is also the Daniels County weed district supervisor and guides her constituents in managing weeds in the county. She has assisted many of her adjacent county partners in delivering critical pest information, such as managing baby's breath, while helping partners with presentations on a variety of pesticide topics. Cecil Tharp, MSU Extension pesticide education specialist, said it's exceptional for new MSU Extension agents to provide this amount of leadership in pesticide education.
Nelson received the MSU PEP Lifetime Achievement Award, which is awarded to an individual demonstrating exceptional efforts resulting in statewide pesticide education impacts over a minimum of 15 years. Nominees may have experience within or outside of MSU Extension to qualify for this award.
Nelson grew up in Sisseton, S.D., and graduated with a bachelor's degree from South Dakota State University in animal science. He was hired as the McCone County Extension agent in 2000. Since his hire, Nelson has coordinated annual county pesticide recertification events and many county and regional initial private applicator trainings. Nelson has also led regional efforts in teaching ATV safety across Montana, presented at annual weed district pesticide crew trainings and currently serves as a regional resource for other trainers on livestock, horticulture and crop pest management topics. Tharp said Nelson's dedication to Montana's pesticide applicators and trainers is invaluable to the state's agricultural industry. His leadership has saved producers money by decreasing non-target injury from pesticides while managing pests effectively for 17 years. Tharp added that Nelson's impact on the pesticide industry pre-dates his employment at MSU, extending back another 22 years while working as a South Dakota Extension agent. When asked of his thoughts on pesticide education, Nelson said "the safe and proper use of pesticides is imperative when you consider the potential impacts of pesticides on humans, animals, the environment, as well as the targeted pest."
The MSU Extension Pesticide Education Program offers guidance to pesticide applicators across the state, while coordinating the certification and training of approximately 5,200 certified farm private applicators across Montana. For more information on the program, visit pesticides.montana.edu. Future pesticide education nominations may be sent to Cecil Tharp at 406-994-5067 or [email protected]