Posted on
Mary Lu Weeks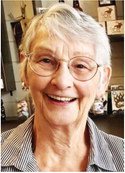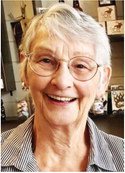 Mary Lu Weeks, 86, of Culbertson, Mont., passed away peacefully on Tuesday, June 21, 2022, surrounded by her family at her residence in Culbertson, Mont. Fulkerson Stevenson Funeral Home of Williston, N.D., is assisting the family. Friends may sign the register and give their condolences at www.fulkersons. com. Her memorial service was held at 2 p.m. Monday, June 27, 2022, at the Grace and Peace Church in Culbertson. Mont. Pastor Ross Reinhiller officiated. A private family burial was at Hillside Cemetery, Culbertson, Mont. The funeral service was livestreamed; you can view Mary's service directly on her obituary page on our website www.fulkersons. com. Marylyn Lucile Weeks was born to Gail and Leonard VanBuskirk of Berthold, N.D., in 1935. She was affectionately nicknamed MaryLu almost immediately and that name stuck. Her childhood was the typical hard-working, frugal one like so many of her generation.
In 1954, MaryLu married Earl Weeks, originally from Des Lacs, N.D., and they moved to Culbertson, Mont., to make their home. They took root in this little town and took great pride in all the friends, neighbors and businesses here. Their four children were born at Roosevelt Memorial Hospital.
In 1966, they purchased Culbertson Implement. After Earl's sudden death in 1977, MaryLu took a giant leap of faith and stepped into Earl's place at the Implement. This was a learn-as-you-go experience and not at all easy. She faced every challenge, though, with a keen mind and a quiet dignity. The support of other implement dealers, John Deere representatives, and especially her community during these years inspired her sense of volunteerism and service.
She knew firsthand the importance of giving back. MaryLu served on the Culbertson School board, the Culbertson GFWC Women's Club, the Culbertson Foundation board and the ND Public Radio board of directors. She was active in every aspect of her Methodist Church and was a devoted volunteer at the local nursing home. She was a Culbertson sports fan since the moment she and Earl arrived and was a vocal supporter to be sure.
MaryLu's love of reading was well known, and she was always on the lookout for her next read. Her greatest delight was curling up with a great book and a cup of tea. She was a regular at the local library and enjoyed the Tuesday Book Club conversations. Her love of reading and history fostered a yearning for travel. She was always excited to be planning a trip. Her travels included three trips to Europe and the British Isles, fall foliage tours, and many trips throughout the country.
MaryLu made an indelible impression in the community that she loved and touched the hearts of the lifelong friends she made here. Undoubtedly, her greatest legacy lives in the hearts of her grandchildren. She was an active participant in their lives. The kids had a key to her door that came with a key to her heart. She joyfully attended every program, fair, and sporting event, and her kids could always rely on seeing her face in any crowd. She was a strong, unwavering bulwark for each one of them.
There were many, many ordinary and impromptu gatherings at MaryLu's because it was just "home." Christmas Eve at Gramma Lu's was everyone's favorite. Memories of those raucous evenings filled with laughter and food and presents and family… followed by the reading of the Holy Story … will stay with each of us. The love we shared on those nights will be the invisible, unbreakable thread that binds us each to the other forever.
MaryLu is survived by her four children and their spouses, 10 grandchildren and nine great-grandchildren: Penny and Robert Anderson and family; Luke (Ashlee), Harper and Huck Anderson; David (Ashley), Ella and Leddy Anderson; James (Sylvie), Andrey and Zackary Anderson. Laurie and Milo (Buzz) Mattelin and family; Joan (Matt), Lola, John Amos, and Moses Garrett; John (Caitlin) Mattelin. Mike and DeAnne Weeks and family; Alex (Emilee) Weeks; Shelby (Anthony) Lebsock. Mark and Wendy Weeks and family; Hannah, Sarah and Claire; and siblings, Arlene, Lenny, Linda and Susan.
(Paid Obituary)