Posted on
Cyndy Panasuk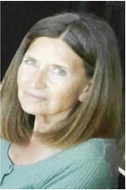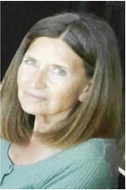 Cyndy Panasuk, 66, of Bainville, Mont., passed away Monday, June 13, 2022, at her residence in Bainville, Mont., surrounded by her family. Fulkerson Stevenson Funeral Home of Williston, N.D., is assisting the family. Friends may sign the register and give their condolences at www.fulkersons.com.
Cyndy's Mass of Christian Burial was held on Saturday, June 18, 2022, at 11 a.m. at the St. Anthony's Catholic Church in Culbertson, Mont. Father Akama celebrated the Mass. Cyndy was laid to rest in Hillside Cemetery in Culbertson, Mont. A vigil with a rosary was held Friday, June 17, 2022, at 6 p.m. at St. Anthony's Catholic Church in Culbertson, Mont.
The Funeral Mass was livestreamed. You can view Cyndy's service directly on her obituary page on www. fulkersons.com.
Cynthia Helen Panasuk was born on July 18, 1955, in Sidney, Mont., to Harry and Helen Foss. She was the second born of four girls who grew up on the family ranch out on Charlie Creek, working the cattle and the fields alongside her sisters and her parents since she was young.
Cyndy went to elementary school at Ruffatto School until the seventh grade before attending high school in Culbertson. After she graduated, she attended Montana State University - Bozeman and finished school at Eastern Montana University in Billings with a degree in education.
Cyndy began her teaching career in Sidney, moved to Brockton, then finished in Bainville. Over the years, she taught a variety of grades, kindergarten through high school. She loved each of her students like kids of her own and, even though she retired, she didn't let that end her teaching adventure as she subbed at the Bainville School for years after.
Cyndy met the love of her life, Miles Panasuk, and they married in 1985, planting their roots in Bainville. Later, her son Jake and daughter Nena were born and were truly the pride and joy of her life. She loved watching Nena become a doctor and Jake become a father and gleamed with pride during both.
Cyndy always enjoyed a challenge; and truly lived by her favorite Bible verse "I can do all things through Christ who gives me strength" ( Philippians 4:13). Whether it was puzzles, a half marathon, quilting, starting CrossFit after retirement and many more difficult activities, she loved to challenge her brain and body. She even spent countless nights helping her nieces and nephews through their college mathematics courses.
Cyndy and Miles began wintering in Wickenburg, Ariz., where she took up hiking and did lots of kayaking and cards with friends. Even at home, Cyndy loved being out on the river in her kayak and walking for miles.
The Foss girls all followed in their father's footsteps, receiving their pilot's license. Cyndy loved to fly and had the opportunity to ride in the airplane that was flown by three family generations just a few weeks ago.
Her sisters were her best friends and the bond she held with them was very strong. They talked to each other on the phone for hours on end. Whether they lived 50 miles apart or 1,500 miles apart, they never felt the distance.
She truly led the life of a Christian and was passionate about her Catholic faith, attending church and Bible study groups, along with teaching her god-kids about the Lord.
Cyndy had a giant heart that was full of love for all animals. She took the expression, "I couldn't kill a fly," quite literally as she would catch spiders and release them safely. She especially loved her barn cats, Walker, Samurai, her dog Will and her grand-dogs Chloe, Enzo, Bella and Nahla.
More than anything, she loved spending time with her newest grandson, Rhiley. Their favorite activity together was baking chocolate chip cookies and playing tractors. She wanted nothing more than to watch him grow up and she'll be doing just that from her seat in paradise.
Above all, Cyndy loved her family and she loved to laugh. When many shared thoughts of Cyndy, happy and kind are popular words used to describe her. She lived her life to the absolute fullest and in turn, encouraged many to do the same.
"And of all heroic pursuits large or small, we believe there may be none greater than a life well loved."
Cyndy lost her hard-fought battle with pancreatic cancer on June 13, 2022, in her home surrounded by family.
Cyndy is survived by her husband, Miles Panasuk; daughter, Nena Panasuk; son, Jake (Tryn) Panasuk; step-daughter, Heidi Okeson; sisters, Kathy (Don) Steppler, Judy (Neil) Turnbull and Mary Jo (Doug) Reidle; brothers-in-law, Mark (Jan), Dana (Brenna) and Todd (Brinda) Panasuk; sisters-inlaw, Amy Beth Panasuk and Mary (Greg) Peed; nieces, Melissa (Andrew) Fisketjon, Tara (Chad) Kelly, Somer Reidle, Abby Reidle, Taryn Gallinger, Tristyn Richendifer, Annie Miller, Gretchen Lane, Katherine Neely and Brandi Fish; nephews, Michael (Hallie) Steppler, Matthew (Katie) Turnbull, Trent Panasuk, Luke Panasuk, Ty Panasuk, Trevor Panasuk, Josiah Miller, Joshua Peed and Dustin Panasuk; grandchildren, Rhiley Panasuk, Coy Okeson, Corbin Okeson and Cade Okeson, Taylor Barstad and Jacy Barstad; her dear aunts uncles and cousins; and many other extended family members that she loves dearly.
She was preceded in death by her parents, Harry and Helen Foss; father- and mother- in-law, George and Irene Panasuk; brother-in-law, Scot Panasuk; uncles, Henry Miller Jr. (Malea), Kenneth (Joanne) Foss, Norman Foss and Gene (Marsha) Foss; and aunts, Mildred (Dolly) Angel, Winnie Clausen, Peggy Foss and Margie Foss.
(Paid Obituary)