Posted on
BSK Students Add To Glasgow Mural Project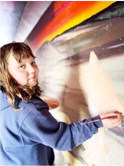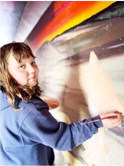 Painter/instructor Cathryn McIntyre took some of her oil painting students to help her paint the mural on the Glasgow underpass on Friday, May 27.
She was accompanied by Bigger Sky Kids coordinator Otto Osen.
BSK received a grant from the Montana Arts Council to bring McIntyre to their after-school program, which serves students in grades 4 through 8 with no charge to attend. Students interested in oil painting techniques may take instruction from McIntyre, a professional artist based in the Glasgow area.
Students who participated included Quiarrah Rios, who doubles as a teacher assistant; Thomas Moudree; Dana Buckles; Justyne Martell; Stephanie Martell; and Taylor Shumway. Buckles' grandmother, Melissa, also accompanied the artists and helped with the painting.
BSK offers after-school, art-based instruction in Wolf Point and provides a safe place for children to participate in program activities.
For more information, visit biggerskykids.org or call 406-650-5656.